Name: Charissa E Wright
From: Ellenwood, Georgia
Grade: Senior
School: Cross Keys
Votes: 0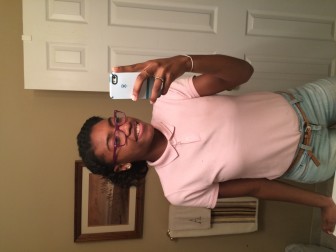 Give
More; Receive Less
"In all
things I have shown you that by working hard in this way we must help
the weak and remember the words of the Lord Jesus, how he himself
said, 'It is more blessed to give than to receive."
Acts 20:35
Have you ever heard the saying, "It's better to give than receive?" Well
I have basically been told this quote my whole life. My family says
this almost every Christmas to remind us that the holidays aren't
about us and what we can get from people. Hearing that over and over
every year made me realize that I needed to really work on applying
that quote to my life. As a child, and as of today, I had no problem
sharing with others and giving up something to give to someone else.
I have a generous heart and I like being nice to people. When I
started middle school, my life practically changed for the better;
for me and other people.
When I first started sixth grade my mom changed churches and started attending New
Life Church in Decatur, Ga. That same year we joined the church and I
started becoming active in different ministries that offered, but my
favorite one was the Social Service Ministry; I began to help out in
this ministry every Saturday morning. Saturday mornings I would help
out with assisting the homeless people and others in the community
with receiving food boxes, clothes, counseling, getting their hair
done, or the other services we offer at church. I volunteered my time
at the church for about three hours almost every Saturday out of the
year. My aunt's church would go downtown and feed the homeless too,
and I would help out with that.
Up until now, with me becoming a college freshman, volunteering has become a part
of my weekly routine. The reward I get for volunteering my time on
Saturdays is more than what I could every ask for. The people are
always so grateful and I love to see them happy when they get helped
with what they need. To see their smiles, receive hugs and receiving
compliments on how well I'm doing my job is priceless. I even see
people come back years later and they see me still volunteering there
and they tell me how much I've helped them and encouraged them;
that makes volunteering worthwhile.
Giving back is actually a greater feeling than receiving something. When I can
make someone else happy, that makes me happy too. There are a lot of
people in this world who need help, but people won't reach out to
them and I don't want to be that person. Just imagine for one
minute that you were in that person's shoes; you would want someone
to help you too. I believe that everyone needs a little love once in
a while. You won't believe how something simple as a smile can
encourage and make someone's day.