Name: Fernanda G Flores
From: Humble, Texas
Grade: Junior
School: Quest Early College High School
Votes: 0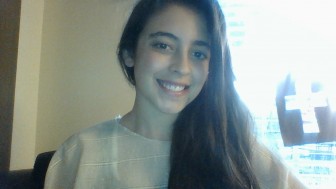 Giving
Back:
Analyzing
the Journey of Serving the Community
The air was cold and nurses were running in and out. The fast pace was
extremely evident as the smell of GermX and the white walls
overpowered the environment. As a volunteer at Memorial Hermann
Hospital from 2015 to 2016, I attributed to transporting patients to
their destination and delivering traits to different parts of the
building. On other cases I volunteer as a receptionist in the Surgery
Unit area, where I updated family members with an overview of the
patient. I learned that my role was extremely influential to family
members because of the information that I acquired to them. I met
different people of distinct backgrounds that also volunteered in the
hospital. Additionally, one of the elements that I gained most from
attributing to the community, is the importance of maintaining calm
regardless of the situation. Thus, the most challenging situations
was always smiling and expressing a positive attitude when family
members exhibited strong feelings such as frustration. On the other
hand, what gave me most satisfaction was helping people especially
the elderly and those that could not get from one place to another.
Hearing their life stories was like taking me back in time eighty
years before I was born. Therefore, attributing to their necessities
made me enjoy my service site even more. Throughout my three years of
high school, I also volunteered in three elementary schools, and in a
nature center as a tour guy during the school year since it was part
of my school's curriculum.

Looking in the future, I am planning in majoring in business and hopefully
travel the world one day. If I ever have the chance to travel the
world, I want to help poor families in communities around the world
that do not have the resources such as water, food and sanitation. I
would feel fulfillment if I ever got the chance to teach kids that do
not get the opportunity to have an education in foreign countries. In
ten years, I would like to continue helping the community advance,
especially upcoming generations because they are the ones that are
going to lead the world one day.