Name: Helen
From: San Jose, California
Grade: college freshman
School: Santa Clara University
Votes: 245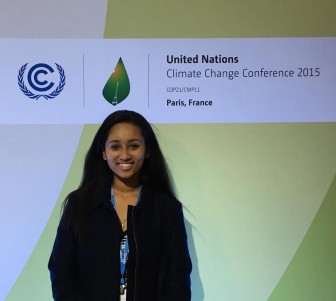 Helen Kassa
San Jose, CA
       Giving
Hope to Kids Like Me
 "Education is the most powerful weapon which you can use to change the world"
said the great Nelson Mandela. "Focus in school" and "study
hard" similarly was a mantra my immigrant parents drilled into me.
Higher education has always been an expectation for me, although
neither my parents nor extended family had more than a high school
diploma. I was taught that the only way to be successful in life is
to value education the same way one values the air we breathe. The
concept of valuing education firmly resonated with me during my first
trip to my homeland, Ethiopia. I saw Ethiopians; the rich, the poor
and the destitute. I witnessed kids as young as seven, hustling on
the streets selling candy and gum, so they could serve as the
breadwinners of their families. When I saw those kids, I thought ,
"that could have been me." Immediately, I felt that it was my
responsibility to do something about it. My first true act of pure
volunteerism came in the form of advocacy and leadership. Being as
young as I am, unfortunately, my challenge was my age. Many adults
and peers doubted my ability and refused to support my cause for I
lacked legitimacy. Nevertheless, I remained focused because I had a
mission.  I dedicated the next eight years after my first trip
to planning, researching, fundraising, and speaking out on
inequality. Throughout the years, I have worked hard to provide the
resources and tools for "my people" to stay resilient.
With the support of my family, mentors and the community, I was able to adopt a school
and start my own project in Ethiopia with a mission of creating
educational opportunities for kids to escape poverty. Since then, I
have raised enough money to: purchase school supplies for 1200
students, donate ten new blackboards, and start a merit-based
scholarship program for high achieving students. Most recently, I had
a science lab built, equipped  with seven desktop computers and
one duplex printer, so students can be exposed to STEM  and
hands on learning in order to one day compete in the global market.
During one of my trips back to my adopted school in Ethiopia, I asked some of the kids
"what they wanted to be when they grew up?" In the absence
of educational resources, I was amazed to hear some of the student's
ambitions and passions for learning. But the one that will always
stick with me was a young girl who wanted to be like me. She
insisted, "I want to be like you, because I want to help others,
so they can have a better life too." This was a turning point
for me because in that moment I decided that I must continue to work
to bridge the gap. I'm currently studying economics and
sustainability and plan to use my education to expand my non-profit
Giving Hope to Kids Like Me into a global initiative for equal
opportunity to education worldwide.