Name: Jhania Smith
From: Snellville, GA
Grade: Senior
School: Gwinnett School of Math Science & Technology
Votes: 0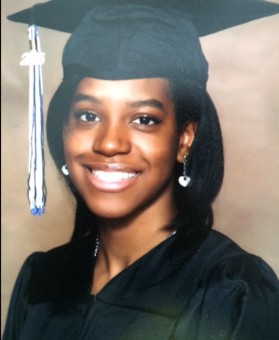 Giving
a Little and Getting a lot Back Through Volunteerism
I have been a cadet in the Civil Air Patrol (CAP) for over four years.
We meet every Thursday from 6:45 p.m. to 9:00 p.m. My CAP squadron
annually participates in various community activities for children
and the elderly. We partner with the local Shriners Organization for
most of these activities. My CAP squadron also participate in the
Wreaths Across America program by collecting funds which are then
used to purchase wreaths. During the annual Wreath Across America
day in December the wreaths are laid on the graves of our fallen
soldiers. I have always found this activity very moving emotionally.
During the summer of 2015 I volunteered every Tuesday at the Eastside
Medical Center Day Surgery Department and every Wednesday afternoon
at the Laurel Grove Independent Living Retirement Home. At the
hospital I assemble form packets for new patients, restock supplies
and assist personnel with the preparation of recruitment information.
At Laurel Grove I assisted with facility set-up and decoration,
resident activities and spoke one-on-one with residents. I have found
all these activities very rewarding, and educational. There is a
sense of accomplishment and wellbeing that comes from assisting
someone who clearly appreciates the help. Also the feeling that one
gets from assisting someone and helping to make their life more
enjoyable, if only for a few hours, is truly amazing.
During my senior year I completer 206 voluntary hours and was awarded the
Voluntary Service Ribbon during the Senior Awards Ceremony
I see volunteering as a form of on-the-job training. Advantages of
becoming a volunteer are:

It is a wonderful opportunity to make a valuable contribution in an
institutional environment and can lead to life-long relationships.

It is an opportunity to give back to ones community by helping not only
those who are ill but also employees of the organization or
facility.

It provides an opportunity to work with and be guided by experts and
other professionals within the organization and also get valuable
exposure to what goes on in the work place.

Volunteering is an important way to gain new skills, to meet people who one would
not normally meet and to make new friends and acquaintances.

Provides benefits not only to those who are being helped but volunteers also
feel a sense of accomplishment by being able to help others.
By volunteering I have been exposed to some of what goes on in a
hospital and the working world. The exposure has convinced me that
the field of medicine is really where I want to be. This exposure
will help me to accomplish my goal of becoming a surgeon.
Learning how to work collaboratively in an institutional setting as well as
completing assigned tasks properly and quickly are valuable skills
that will benefit me both in college and when I start working. Years
from now when I have become a medical doctor I will look back at my
volunteering days as a turning point.