Name: Stefanie King-Medina
From: Lansing, MI
Grade: College Sophmore
School: Stefanie King
Votes: 57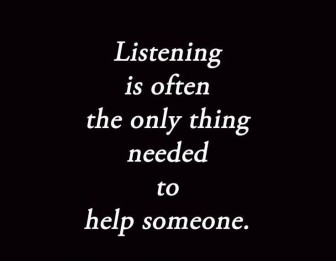 The Listening Ear is a crisis intervention line specializing in
sexual assault counseling. When planning to enter the psychology
field it was an opportunity for hands on experience. The requirements
are one four hour shift per week and one eight hour over night shift
per month. The crisis line training is intense; a long forty hours of
learning to empathize, tone matching, role playing, and problem
solving. After starting my crisis line shifts I went through an
additional forty hours of training to join the sexual assault
counseling (SAC )staff. I was now committed to at least one
twenty-four hour on-call shift per week for SAC in addition to my
crisis line obligations. For the next year and a half I worked an
average of three days a week for the Listening Ear. When I received a
call to advocate for a survivor my job was to support, empathize, and
believe that this person has just endeared a cruel, demeaning, and
inexcusable act of violence. I would meet survivors at the hospital
while they filed reports to police and SANE (Sexual Assault Nurse
Examiner), and while they were examined with the purpose of
collecting forensic evidence. This is an overwhelming and emotionally
sensitive time for a survivor. My job was to support them throughout
the process. I learned handling techniques intended to give power
back to the survivors encouraging them to make their own decisions. I
gave them a sense of control by requiring consent for any or all
parts of the examination and interview. Giving someone a choice
reestablishes a sense of power and allows them to feel they are back
in control of their lives. My biggest challenge at the Listening Ear
was to accept that the survivor of the most horrific and violent case
I had ever seen did not want to pursue legal action. She was a
nineteen year old virgin who had been brutally assaulted by a member
of the university's football team. She required medical attention.
Her school had failed her in every way. Proper reporting procedures
were not followed. This girl was left unprotected by her campus
police and encouraged not to file any reports. She was bullied and
threatened not to tell. She was blamed for her assault. Her peers
said she was drinking and flirting. It is unacceptable to imply that
what was done to this girl was brought on by any of her own actions.
My job was to support her. I counseled her. I cried with her. No
matter what my opinion was, the most important thing was to give this
girl the power to make her own choices. I would not be another person
to force her to do something she did not want to do. Processing this
case was one of the hardest things I have ever done. I learned to
accept that just because she did not do what I would have done, does
not mean she did not do what was best for her.