Name: Stephanie Nnabue
From: Baltimore, MD
Grade: Freshman
School: Morgan State University
Votes: 0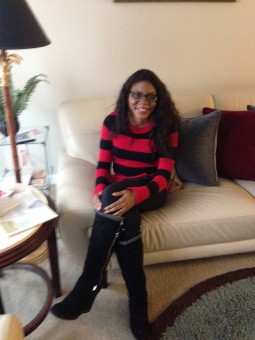 Glasses-Geek or Chic?
As a little girl, I always wanted to help people since, my parents
instilled in me that a person must always reach out to help someone
in order to be helped. This is what helped me take a decision to join
the Girl Scouts. According to the 1947 handbook, "A Girl Scout is
ready to help out wherever she is needed." In my troop, we sold
cookies to raise funds and donated to an orphanage that was in
financial straits.
From June 2014, I volunteered at an eye clinic called Aqua Vision Care whose managing director is Dr.
Kelechi Mezu in Reisterstown Road, Maryland. I chose this place to
volunteer because I wanted to help people who found wearing glasses
awkward because in the world today, people who wear glasses are
thought to be geeks – unfashionable and socially inept people. Having
had glasses at a young age, I have been placed inside that situation,
so by volunteering, I wanted to help young people understand that
they do not have to let the title geek define them. The benefits of
wearing glasses outweighs the risks.
My responsibilities were to help first-timers understand that the need
for glasses was important. Also, to make them feel comfortable with
the idea of wearing glasses because it was a necessity in improving
their eye defect. Another responsibility was helping those select
frames that suits their facial structure.
My biggest challenge in volunteering at the eye clinic was convincing them that glasses would
not make them automatically geeky but it would be an improvement on
their eyes. Most of the people I worked with, at first did not like
to admit that the glasses helped them see in fact, as they found
glasses to be cumbersome and tiresome. I know for a fact that
sometimes it can be both tiring and stressful, but the benefits of
seeing the world in a sharp, and clear view are worthwhile.
The satisfaction I got in volunteering was helping people understand and
appreciate the need for glasses, letting them know that wearing
glasses can be stylish, and more than half of average Americans use
glasses to read.
By volunteering at the eye clinic, I learnt that helping people find the
right pair of glasses brings a sense of accomplishment in a job well
done. Do not let society define who you are, you define who you want
to be. As I talked with customers in the eye clinic, I could see that
they used to associate glasses with geek or nerd, but I changed their
minds by proving not only can glasses be stylish, but it is a
necessary improvement for the eyes.
Volunteering in this eye clinic although, it does not have anything to do with my
dream of being a writer. My volunteering in the eye clinic has shown
me that an individual has to ignore the label society gives to them
by letting himself or herself define their own label.
As for forward looking, my activities in the eye clinic will help me
believe in myself, and not what others think of, and about me.

I believe in 10 years that my volunteer services will pave the way for other volunteers to show
that it does not matter how the world sees you, but how you see
yourself.