Name: Caitlyn Robinson
From: LaGrande, Oregon
Grade: 11th
School: LaGrande High School
Votes: 0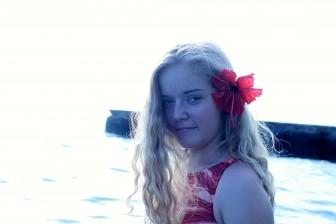 Global Outreach In Mexico and Haiti

 I have experimented in the past with multiple areas of community
service: elderly assistance, childcare, environmental upkeep, and
childhood education.  All had aspects that I liked, but the area
that I connected with most was global outreach.  My first
experience with global outreach was with the organization Get Away
Give Away during Spring Break 2012.  This is a group of local
churches that travels to San Luis Mexico by school bus. Every year
we build 4-5 houses from the ground up. The needs are great in
San Luis. We have built houses for families living in cardboard boxes
with tire fences.  During this process we camp under primitive
conditions and share Gods love with the people of San Luis through
construction and Vacation Bible School.  
       Trips to San Luis have changed my view of the world through firsthand
interaction with the locals in San Luis. Their kindness and gratitude
really put into perspective all that I have to be thankful for and
the impact that I can make.  I have been on the San Luis Mexico
construction trip on 4 spring breaks 2012-2015 and look forward to my
next opportunity to go on this transformative trip.  
     Because of my love for global outreach in Mexico, I sought to step further
outside my comfort zone and travel with teens, rather than friends
and family, from across the United States on a global service
project.  This turned out to be one of the best experiences
of my life when I joined Teen Missions International on a summer
mission trip to Haiti in June through August 2015.  The trip was
listed as a Construction Outreach trip, but it was so much more than
that.  I had no idea what I was getting myself into.  We
had no running water and only canned food that we packed on our
backs.  Construction has never been my spiritual gift, yet I
enjoyed building desks for schools and repairing roofs of churches.
However, the most gratifying part was the relationships that we built
while doing these tasks with our team and the locals in Haiti.  
       Things never went quite as planned.  I was constantly asked to
improvise and perform tasks quite foreign to me, but after letting go
of my preconceived ideas of how things should go, I found immense joy
acting spontaneously with my team.  While there is nothing wrong
with applying your gifts, there is a certain challenge in pushing
yourself to try new things and relate to different cultures.  I
learned numerous construction and organizational skills.  I
contributed to the construction of several Haitian schools and
community buildings and I appreciate what I have more than ever.   
I love experiencing new cultures, but my rural Oregon town is full of
people that have needs that I can meet just like the families in
remote Haiti.  This experience broadened my worldview to
appreciate what I have and how I can best use my gifts to serve those
around me both locally and abroad.