Name: Hanan Alwan
From: Austin, Texas
Grade: 11th
School: McCallum High School
Votes: 0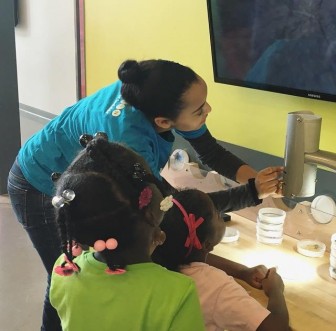 Growing up, my mother would always me that I would never know what would happen
behind closed doors. Looking back at it, she probably took that
saying off some inspirational poster, but it stuck with me for a
long time. As a young adult, I have accepted all of the privileges I
was blessed with, I have a roof over my head, a supporting family,
and the opportunity to the education I receive. I've also accepted
the fact that it's my duty to give back to those who aren't as
fortunate as I am.
Over the past year, I have spent roughly over 160 hours volunteering, excluding tutoring
children. My main focus is assisting and providing support to those
who just need an extra push or motivation, or are just trying to get
on their feet. I feel that as the youth is the next generation that
will help change the world, we should try our hardest to educate
them. I am an active volunteer at the Thinkery Museum, where I
interact with kids and encourage them to think outside the box and
apply STEAM ideas to different activities. My responsibilities
include making sure the children leave feeling like innovators and
problem solvers. When I volunteer at the Thinkery, I can see children
leave with smiles on their faces as they learned something that may
forever impact their interest. During the school year, I mentor
elementary and middle school children in the Peer Assistance &
Leadership (PAL) program at my school. Two times a week I get to know
4 individual students who open to up to me and I really enjoy being
able to act as a role model.
I also think poverty and homelessness is an issue that needs to be carefully addressed by
politicians, but the American people can definitely make a difference
if we work together until greater long term resolutions occur. I
enjoy making care packages for the homeless population in my city
that consists of water, snacks, hygiene products, etc.
My biggest challenge while volunteering is managing my time and balancing school, my
commitment to volunteering and my extracurricular/ social life.
Although I have taught myself wisely, at one point time management
was a tough spot.
In the future, I want my career goals to focus on human rights in the Middle East and
Africa. My commitment to volunteering gives me a headstart on
socializing with different types of people.
While one can argue that what I do is a short term solution, you never know how a small
gesture can impact an individual. And I truly believe that it's the
purpose of volunteerism and community – forward looking of one's
future. The lasting effect of an interaction can easily stimulate
somebody, especially childrens interest in whatever field, allowing
them to feel more enlightened. As my generation and the generation
after me are more educated, I hope for a world where knowledgeable
actions can take place, more inventions, and innovations are brought
to help each other.