Name: Andre Chinua Taylor
From: Boynton Beach, FL
Grade: 11th
School: Atlantic Communiy High School
Votes: 0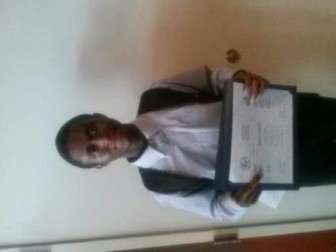 An essential element of developing the potential of America's youth
is the advancement of reading and writing skills. At a young age, my
parents instilled in me a ravenous desire to read and write, as they
fully understood the significant role they play in cultivating
effective critical thinking and communication skills. It was through
the countless hours I spent at my local library and the reading
sessions I had with my mom that I have come this far into my
educational career and continue to thrive as a student.
My own relationship with reading and the intellectual and emotional
satisfaction that comes with it inspired me to work at my local
library's Reading Buddies Program, where middle school and high
school aged students assist elementary school students in reading and
comprehension. This program has been an integral part of my life for
the last five years because I have had the opportunity to personally
oversee the growth of the students I tutor.
One of my favorite experiences of the year is when we have an end of
the year ceremony commemorating the young students for their efforts
to become better readers, because I get to see some of the students I
tutor receive certificates stating that they read a year or more
above grade level. The sense of happiness I feel for the students and
parents in attendance is shared by the all the tutors who have also
developed unique bonds with the kids and are personally invested in
seeing them excel throughout school.
The kids that I work with are captivated by a variety of literary
subjects, but my personal favorites revolve around literature
discussing the natural world. I have a passion for the local
environment of South Florida and its importance to my community and
participate in efforts that allow me to help preserve it. Sand
Sifters is a Florida-based organization that conducts monthly beach
cleanups that are designed to beautify and safeguard coastal
ecosystems. My participation in these activities has allowed me to
serve my community because I recognize that pristine beaches are
essential to the economy and culture of my community and others like
it.
I have not only played a role in protecting the environment but have
gained new friends and learned about the life around me in a hands on
way. I still clearly remember the time when several friends and I
were looking to pick up trash at our beach and stumbled upon a baby
sea turtle trying to make its way to the ocean.
My community service work in my local library and at my beach is an
integral part of my life because they allow me to help those around
me and bond with people over shared interests and passions. In
tutoring the kids around me and protecting Florida's ecosystems I
am contributing to the health of my community.