Name: Jasmine Barnes
From: Sunirse, FL
Grade: High School Senior
School: Piper High School
Votes: 0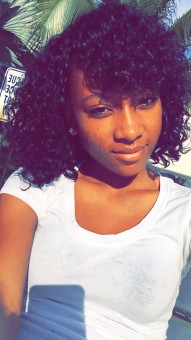 The area in which I chose to volunteer involved feeding the hungry and
helping the less fortunate. Being able to volunteer and help the less
fortunate gave me an opportunity to get involve with my community. I
chose this area because my mom worked for an economic crisis
intervention program which provided me with first-hand knowledge of
the need that existed in the community. The organization provided
food, financial assistance, clothing, etc. to families that were in
need and I wanted to help out any way I could. Each year during
Thanksgiving and Christmas the organization packs food and provides
it to families throughout Broward County. After I initially got
involved I decided to dedicate approximately 20 hours per month
helping with various organizations. During the last year I have
volunteered over 200+ hours in my free time.
On Saturday August 15, 2015, my mother and I attended an amazing
community event sponsored by the organization she works for (Gateway
Community Outreach). The purpose of the event was to supply
underprivileged children with school supplies. There was also free
food and entertainment for the families to enjoy. The biggest
challenge for me during the event was assuming multiple
responsibilities. For starters, I gathered a group of volunteers to
help pack the supplies into the backpacks. In order to maintain a
structured environment, I setup an assembly line to ensure all of the
bags received the same items. Once the event began, we distributed
the bags as well as boxes of food to the families.
While distributing the items I overheard a parent thanking my mother for
the items she received. As tears rolled down her face, the lady began
to tell my mother that she was not able to afford any school supplies
or clothing for her five children and she was very grateful for
everything. After the event, I went to my mother and told her that I
wanted to donate money to this lady so that she could buy clothing
for her children. My mother advised me her name was Ms. Nicole and
she would call her to get additional information in order to see how
we could help. At that moment, I realized I had my work cut out for
me. I immediately contacted several family and friends for donations.
I was able to raise nearly $400 for the family. When my mother
finally spoke with Ms. Nicole, she requested the children clothing
size and we went shopping for the family that Wednesday. The
following Saturday we delivered the items to the family's home. Ms.
Nicole was overwhelmed with happiness.
During the event I was able to partake in an experience that allowed me to
help families in need. This also gave me the opportunity to serve the
local community of Deerfield Beach. In the process of volunteering I
was able to inspire two friends from school to get involved. This
moment was not only special for the children we were able to assist
but it was also the most satisfying to me as a volunteer. Overall,
seeing the smiling faces of families was very inspiring.
That experience influenced my goals because it was an eye-opener and
showed me the importance of giving back to the community. Ultimately,
from the volunteering experience I learned about the difficulties
families face during hard times. My career goals were and still are
in alignment with the volunteering experience because listening to
the families' stories and spending one-on-one time with them was
something that will be replicated once I become a pediatric nurse
practitioner. Volunteering has given me compassion and understanding
to those in need. Essentially, the event had a positive impact on the
community and it is my desire to continue to give back as much as I
can. I hope that these types of events inspire young people like me
to give back. If each person donates a small amount of time, it would
have such a great impact on families that are in need here in our
local community.
I
believe forward looking means doing something in the present that
will benefit the future. The change I seek to foster in the world due
to my volunteer activities is encourage people to pay it forward.
This simple act shows others that there is still hope for a better
and brighter future. If I were to comeback in 10, 20 or even 30 years
I would want people to be compassion understanding and setting a
positive example. I would also want people to continue to give back
in the community and help those in need.