Name: Puneet Kaur
From: Purcellville, Virginia
Grade: 11
School: Woodgrove High School
Votes: 205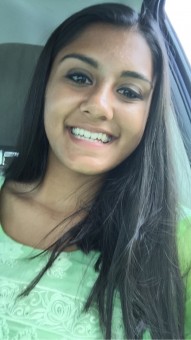 Puneet
Kaur
20
June 2016
Youth
Forward Scholarship Essay

"We're All Human", the
DEstigmatizing youth prevention group
I created and chose to volunteer in an organization called, "We're
All Human". With the help of a few peers, I created this
organization after the loss of four teens in our county to suicide in
just one academic year. I chose to volunteer in this group because of
the intense stigma that surrounds depression and suicide and wanted
to come up with a plan to change it. I spent a total of 96 hours this
academic year, which breaks down to about 4 hours a week, and 16
hours a month, for six months. My responsibilities as a volunteer
included planning for all of the logistics, put up signs students
along the pathways of the walk, talk to media reporters such as ABC
7, the Washington Post, and several other important community members
who also participated in the walk, I was also part of a committee
called the Step-Up Loudoun Committee, which was a county wide
competition, which we entered and presented our problem of increasing
suicides in our county, and showed our solution of raising awareness
through our walk, and documentary. We got third place out of 59 teams
in the competition. Looking back, my biggest challenge throughout the
whole process was the fear of success. I felt that everyone would
just laugh and brush it off, even though it was a hard subject. I
think my biggest satisfaction was when everyone in the gym was
embracing one another, and accepting one another. It felt like
everything had gone the way it was supposed to. I have learned an
enormous amount of information that most jobs wouldn't even teach
you. I got to learn people's stories, learned how to calm down large
groups of people and present them the toughest topics anyone can ever
imagine. I also got to work with people from all different age groups
and most importantly, better myself by working hard.
Looking into the future, I definitely see my activities as "forward
looking". After putting in my hours, and even winning the
Presidential Service Award, I would like to pursue something in this
field. I enjoy computers and technology, and would like to create a
program where people who feel hurt or withdrawn can come to and
express their feelings and get the help they need. This would make a
huge impact globally because in this day in age we are a technology
based society and if someone can get the help with just the tap of a
button, why wouldn't they? I believe when I come back ten, twenty,
years from now, I will see a remarkable difference, because I am
already seeing growth now, and with continual outreach, the growth
will increase. I hope with the possibility of the scholarship money I
can continue my education to the next level and make a difference to
those who deserve it the most.