Name: Sofia Babool
From: Carrollton, Texas
Grade: babools@greenhill.org
School: babools@greenhill.org
Votes: 4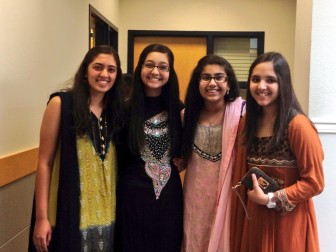 What makes up a leader? I consider the multidimensional concept of
leadership to be the intertwining of motive, and method. Motive is
the intention with which one leads. Thus, the correct intentions of a
leader are a component that makes them effective and prosperous when
achieving their ambitions. Method, on the other hand, is how one
progresses toward their larger cause, or goal. With the same idea, it
is important for a leader to be able to strategically plan, and
carry-out an effective method to achieve a favorable outcome. This is
one my goals as a part of the Junior Leadership Board for the
Children's Hospital. Although, I am a new member, I am campaigning
for President this year to implement my ideas on effective and
efficient problem-solving, and skill-building.
I am a Muslim, and that is a difficult identifier to carry with me. As
an ambassador for Islam, I thought that I would further encourage my
ideas about the true peaceful and tranquil nature of my religion by
participating in a Poetry Contest at the DFW Writer's Conference.
Currently, I give volunteering duty every week from 4-6 hours at my
Mosque. This summer I will also be participating in Meals-on- Wheels,
and Feed the Hunger. I am also the cofounder of a family run tutoring
center in Texas, so I use the business as an outlet for volunteer
work as well. I also spend time tutoring for 2-3 hours per week. At
the moment, I am also trying to organize a book drive to be able
deliver books and school supplies to countries internationally.
Islam literally translates into the word "peace". However, many people
display abhorrence towards Islam and I think it is simply because
they are not knowledgeable enough to form their own conceptions.
While making judgements, people often show their ignorance by
formulating uniformed assumptions. However, this past year, I took
action to inform people from a wide variety of religions,
ethnicities, and races, about what Islam truly is. I participated in
the Aga Khan Foundation Walk and Run, a 50-hour project. As the lead
on environmental disaster mitigation, I presented a series of
presentations with a model example, and was trying to redefine the
meaning of Islam to those who may doubt the religion. I spoke about
the constant mudslides in Pakistan, and displayed an example of the
effects of a mudslide on neighboring villages, as well as the way the
AKF responded to this situation.
Twenty years from now, I may not be able to see the direct effect of my
efforts, but the true difference will be able to be seen after the
efforts of many generations. I truly believe that it is the essence
of the community that allows for true change to blossom. I hope that
my efforts will accumulate for a larger shift in the quality of lives
for those who are in unfortunate positions, because the truth is that
while there is one single individual willing to dedicate one more
second, or one more minute of their lives to somebody else, a
difference will be made, regardless of it can be seen in that single
moment.