Name: Courtney Alexandria Van Meter
From: Victoria, TX
Grade: College Freshmen
School: Victoria College
Votes: 771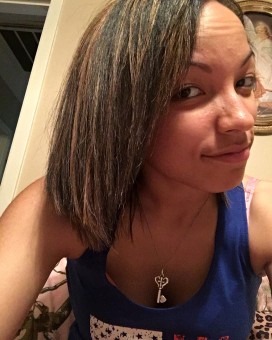 Theatre Victoria, a place where people of all ages can come and express who
they are and not have a care in the world about what people think. I
began volunteering at Theatre Victoria when I was a freshman in high
school, and I never thought I would have been so involved or would
have thought I would have learned so much. People would always ask
me, "Why do you do theatre, you don't get paid for it?" My
response to them was, "the theatre is my outlet. It is the one
place I can go and be who I am, and not have to worry about anybody
judging me."
I always knew I had wanted to help people, but I just did not want to
volunteer at a random place and not have any kind of mental benefit.
I battled with the idea of volunteering at Salvation Armies, local
hospitals, or even soup kitchens. But, I did not think I would like
it very much. I kept having a reoccurring memory of volunteering at
our local hospital and because I did not have a very good time, I did
not think it would be much fun to do it again. But, I just so tired
of staying at home all day watching television until it was time to
go back to sleep.
One of my really good friends starting volunteering at Theatre Victoria.
She would tell me all these stories and I was so jealous that she had
found a place she could volunteer and have so much fun. When I
explained to her that I really wanted to do something like that, she
got me in contact with the director of the theatre Scott Mohon, and
he quickly signed me on as a volunteer.
When I first started volunteering, I would just come in for a week and a
half and work for four hours a night every six week because that was
how long the run of the show would be. For about six months I would
go through the process of working either backstage of each show or
being one of the house managers. The technical director of the
theatre Michael Teer approached me one day and asked if I would like
to help with the designing, building, and taking down of the set.
That was such a great honor to me because I did look up to him at a
father I never had.
When I started working with Michael it was a major challenge. I was
worried I was not going to be good enough or that I was going to mess
up and do something completely wrong. But, Michael was extremely
patient and taught me everything I know now. The hours seem to just
fly by and the amount of time I used to volunteered more than doubled
instantly. Some days we would work 8am-5pm or somedays we would work
6pm to 11pm or 12am. I slowly found myself becoming more and more
involved with the theatre.
In 2015, we did a production of Shrek the Musical where I was asked to
be the assistant stage manager for the show. For ten weeks I would
work at least four hours a night at the theatre prepping and making
sure things were good to go either rehearsals or for the show. The
longest time I spent at the theatre working was twenty-two hours,
which was Michael and I working nonstop that whole day. As the stage
manager I was in charge of making sure all the technical aspect of
the show were going as planned and communicating with the actors any
kind of changes that would take place.
Unfortunately because my classes were starting, I could not volunteer at the
theatre anymore. Theatre Victoria was definitely a learning
experience for me. I learned not only what was required to be a
successful volunteer, but I also learned how to be more open with my
ideas and how to be more creative.
Volunteering at the theatre was probably the best decision I could have ever made.
It helped me meet new people and put myself out there in the
community. Because of the theatre, I am now working for a "state of
the art" conference center and I am about to take on another job at
our local Gold's Gym. People think volunteering is a waste of time
because you are not getting paid and they think you are not
benefiting from it. But in all actuality, you are benefiting. You are
creating friendships, you are showing that you are responsible and
you are also putting yourself out there for others to see you and see
what you can do.