Name: Kathryn Pursel
From: Trinity, Florida
Grade: 12th
School: James W. Mitchell High School
Votes: 0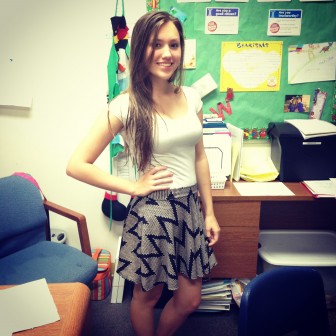 An Impact Worth Remembering
My mom, Mrs. Pursel, the School Counselor at Longleaf Elementary
School, is one of the many reasons I volunteer for the betterment of
elementary students. She helped me to notice my interest in helping
kids struggling with their learning, from ADHD to lack in English
fluency. After classes, every day for the past three years I have
gone to Longleaf Elementary School to offer my assistance in whatever
the staff needed help with, appreciating each new experience. Most
days, however, I am able to go in Mrs. Evan's 4th grade
class where I complete multiple tasks from tutoring a student
struggling to attend, to working with a Hispanic student learning to
speak English. Once I even helped teach the class a science lesson
that involves Mentos and soda bottles. When students fall behind –
whether they have been out of school, do not understand the lesson,
or just need more time to process information than others – I pull
them out of class and provide one-on-one support. Other days, I act
as a teacher's assistant by getting papers copied for the next
lesson plan or following a scale of "use your best judgement" to
grade the writing pieces of 4th graders. Every day
presents new challenges, with some days being easier than others.
Trying to get a hyperactive student who just finished recess with the
thought of home on his mind to sit down and focus on class material
is one of the more challenging aspects of my volunteering experience.
At the end of each day, no matter what the task was, I cannot help
but feel appreciated when students come up to me, give me warm bear
hugs and wave goodbye to me as they use high-pitched tones saying,
"Bye, Katie!". It is definitely satisfying when they call to me
using my name because I know that I made such an impact in their
lives that I am worth remembering. This feeling makes me want to
keep coming back.
Throughout these years, I have built confidence in communicating with
all different age groups, from my little classroom munchkins to the
teachers and staff around the school. I have learned that it takes
passion to be an educator, especially for the more challenging
students who need behavioral support. This opportunity has made me
realize that whatever career I decide to pursue, I want to lead with
passion and will always strive for the improvement of others around
me. I do not have to return to Longleaf Elementary School to know
that I made a difference in other students' lives because I know
that I taught them to never give up no matter what their
"difference." By "forward looking," or considering my
future, I would like to continue to make an impact on all types of
people. I hope to embrace differences and always be willing to
respect others from different races or those having a disability, in
hopes to improve not only my future but others' as well.