Name: Megan Jones
From: Colorado Springs, CO
Grade: 11th
School: Liberty High School
Votes: 18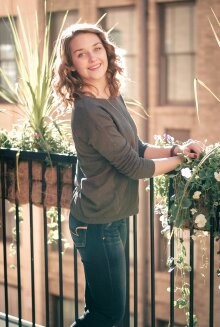 Megan
Jones
Youth
Forward Scholarship Application
Impact
Outside the Border
I first heard about volunteering with Compassion International during
Christmas two years ago. My church brought in representatives from
Compassion to speak to us about the lives of people living in
poverty. During the presentation, the team showed us pictures of
children. Children who were hopeless and incapable of changing the
situations that they were born into. We witnessed poverty and
struggle at its worst. The Compassion team then gave us information
on how we could help, whether it be by sponsoring a child, or
volunteering with the organization.
My family and I decided that we wanted to volunteer. The Compassion
headquarters are located in our home town, which made that easy to
do. Along with 10 other volunteers, my family and I took lead at the
Compassion Experience exhibit. The Compassion Experience exhibit
provides a first-hand opportunity to experience the reality of
children living in poverty. During these tours I helped explain what
the visitors would be experiencing, and helped set them up with the
audio headsets that they would need inside the experience. Being in
the experience was one of the hardest parts I experienced. The
poverty became real and crippling to my heart. Like us, we watched
many people end their tour crying, feeling so much pity toward these
children whose lives were hopeless because of a lack of resources.
Those who took the tour realized how much help they could provide
with very little effort and financial donation. After their tours I
also helped visitors find more information about Compassion, and how
their donations or sponsorships could help those children in need. I
continue to volunteer with the Compassion Experience; as well as
through my church, Feed my Starving Children, and Care and Share.

After volunteering, my parents decided to sponsor a child through
Compassion, and we chose a young girl named Gracia who lives in
Indonesia. With our sponsorship, she now has services and
opportunities available that the world's poorest children will never
see. Gracia gets regular health checks, clothing, school supplies,
and help with homework. She attends a church-based program where she
gets guidance and care. I write her letters regularly and we get
updates on her progress from Compassion.
This sponsorship changed Gracia's life, and the Compassion volunteer
experience changed mine. I love volunteering with this organization
and appreciate that I am able to give support to children in need.
These children have also shared skills with me; helping develop my
personality and character. I have gained so much more sympathy and
compassion through the work of Compassion and I will continue to
share those qualities through my love of volunteering. Looking
forward I hope to expand this selflessness into my career and future
life. I hope to find a career in which I am able to make a positive
impact on someone's life every day.
For
more information about the Compassion Experience please visit:
http://cts.compassion.com/events/