Name: Sydney Smith
From: Atlanta, Georgia
Grade: 11
School: KIPP Atlanta Collegiate Charter School
Votes: 0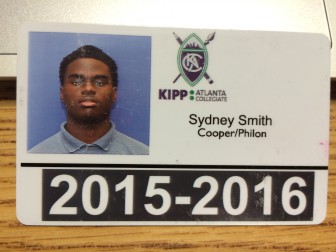 Sydney Smith
KIPP Atlanta
Collegiate
Youth Forward
Scholarship
How
I Gave Back to my Community
Summertime for everyone is a time to just have fun and do what you enjoy. As a
youth camp counselor, I made sure that all of my campers had a great
experience every day. I chose to give back to my community by
volunteering at my old summer camp that I had been attending since I
was seven years old. It was a youth arts summer camp program with
kids ages five through twelve. Not only did I teach them how to have
fun, I taught them necessary life skills for the future. Most of the
campers were preparing for elementary school once the camp was over,
so my goal by the end of the camp was to have my campers learn
something to take with them for the school year.
My main responsibility as a camp counselor was to watch all of the young
campers and help through through daily activities that were assigned
on the schedule. The camp was for eight weeks during June and July. I
would be at the camp from 8:00 AM to 5:00 PM every day. The children
participated in outdoor activities such as swimming, tennis, golf,
basketball, and kickball. At the end of the day, the whole camp would
take part in an activity called Drop Everything and Read, where each
group would read in their respective rooms in the center. One of my
biggest challenges that I had was that the campers were so young. The
children that were my responsibility there were seven and eight years
old. It was challenging to get them to listen or follow instructions.
The experience was still satisfying because I knew I was doing a good
deed in my community.
Most of the young boys I had under my caseload played football together at
the recreation center. I shared my experiences about when I played
football and my team we had the best chemistry. I told them that the
key to being a successful team was to simply trust in one another.
The other camp counselors and I set up activities to practice trust
and having faith in their teammates, no matter what. The team
building was essential for them to grasp while they were young and
playing sports. Sports are something constructive and can teach them
valuable lessons about treating the ones closest to them how they
would like to be treated. Looking at my future, no matter what career
path I choose, it is going to vital that I have faith and trust in my
company and coworkers.
Trust and loyalty can take a person far in life because they never know
what someone could do for them. For instance, while working at the
camp, I was around my old coaches from when I was younger, and they
always respected me for coming back and volunteering. They saw that I
had matured and were proud of me for that. It was because of my
relationship with my old coaches that I had an opportunity to
volunteer at the camp. This taught me to always build meaningful
relationships with people I meet. The relationships that I have built
from a young age to now, I know will benefit me for the future.