Name: Flannery Gallagher
From: Bronxville, New York
Grade: High School Senior
School: Boston University
Votes: 260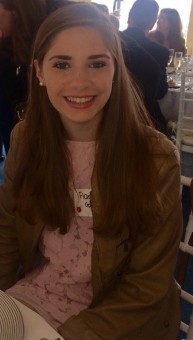 In my senior year of high school, I began volunteering at an organization
called GallopNYC, a nonprofit which offers equine therapy for
children with disabilities such as Cerebral Palsy, autism, and Down
syndrome. One of the main attractions of this site was its unique
cause; I had never heard of equine therapy, which involves teaching
people who naturally have very little control over their bodies to
ride horses so that they are able to garner fine motor skills and
flexibility. I found it to be such a fascinating movement, because,
as someone who went to school in a big city, riding horses seemed
like such an abstract talent; the fact that there is a whole group
dedicated to making this unique hobby more inclusive for kids of all
ages, backgrounds, and abilities blew me away. I went to Gallop on
average about once a week between October and March, and my jobs
usually veered into one of two lanes: assisting the riders who needed
help staying on their horses, by holding onto their legs and grasping
their hands to the reins, or walking the horse from the front while
the rider controlled what direction we went in. For the most part, I
was focusing on helping the rider form a relationship with the horse,
which definitely proved to make the experience a little challenging,
since it took some courage to face these animals that loomed over me
a bit dauntingly. There were so many rules about how to keep a horse
from getting upset, and trying to remember them while also keeping a
small child on top of the animal could be overwhelming at times.
However, as I continued to work there, I began to notice real
progress in the movements of the riders. Kids who had been nonverbal
were suddenly eagerly yelling "Yee-haw!" (at the encouragement of
the volunteers) and smiling; people who had been unable to walk
without assistance were riding horses without help! This facet of my
experience was what I found to be the most valuable: the fact that
there was a palpable change in the abilities of all of the kids we
worked with. It made me feel that a real change was being made, and
that this change would have lifelong effects.
Though equine therapy may not be part of my future career, this experience
has helped me look forward and realize that what I want is to leave
an impact on the world that is shaped by the groups of people I have
interacted with. It's so important to work towards a world that is
more inclusive and thus stronger every day. I want to be constantly
making sure that those who are marginalized in society are able to
see that the status quo is changing and that an open environment is
in the near future. The opportunity I had at GallopNYC to see
palpable change in the community I worked with helped me understand
the beauty of making change.