Name: Callista Schoettmer
From: California City, California
Grade: 11
School: California City High School
Votes: 482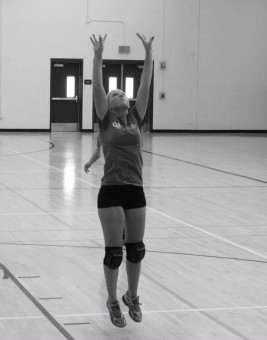 Inspiring
Hope Through Community Service
My home town is a relatively small California town that many of its
inhabitants label as a land without hope. In many ways, this could be
considered true to a natural pessimist, but within our town there are
clusters of hope. Most of the hope I've been able to find comes
from the youth of our community. For children there isn't much to
do here. Not one bowling alley or theater, and only few restaurants
that can be afforded by someone who relies on an allowance or saved
lunch money for an income. Although we lack these amenities, our
community is rich with its various youth sports programs. The program
I have embedded myself into is our youth soccer program, formally
known as AYSO.
I have committed to becoming a youth referee after attending an eight
hour weekend class that was taught by three lively veteran referees.
Aside from teaching the handful of us who attended the class what the
basic rules of soccer are and how to go about enforcing them, they
talked about how much reward they received from volunteer work. After
my first game as a referee, I knew what they meant. This was
something that mattered to the children of our community. It gave
them something to look forward to on Saturday mornings, other than
cartoons. Soccer helped to form friendships and social skills. I
learned that it was not so much about physical talent, but about all
of the gems that were uncovered through playing a team sport.
Since I started high school, I have committed nearly fifty hours a year to
our youth soccer program. From late August to early November I spend
roughly six hours every Saturday on the fields. As a referee, my main
duty is to make sure our players are safe. This includes getting to
the fields early to inspect them for gopher holes and making sure the
goal posts are in order, which involves lending a hand to parents to
help with setting up. Other precautions involve stopping a game to
make sure a player is breathing properly, giving longer water breaks
on hot days and, my favorite, tying shoes for players. Learning the
proper ways of conducting my responsibilities is also part of the
job. Of course the most official duty of a referee is to make sure
the game is being played fairly.
Making calls is one of the toughest things for a referee to do. Especially
when the result is always being the "bad guy" because any
decision a referee makes favors one side and disregards the other. My
biggest challenge I have had to overcome is to learn how to shake off
the nasty comments that would occasionally come from spectators. Due
to my age, I feel that it is hard for me to be respected as a figure
of authority on the field by adults. Whenever I hear remarks of this
nature my initial instinct is to yell, "I'm just a kid and no
referee is perfect." The instinct is boosted by the fact that all
of it is volunteer work, and our program has a small pool of
referees. This affects me on the field too; after all a parents'
attitude is transcended through their children, and it is hard to
have fun when you're thinking negatively. Although it's
discouraging, every referee goes through it and learns how to
overcome it. Disarming insults is a vital skill, and I am happy that
I was able to take that from my volunteer work.
All of the negative energy is outweighed by the joy I receive from
watching the players grow throughout the season. Whether it be
gaining friends, learning how to work in a group, or understanding
the game of soccer a little bit more. Most of all I love to see the
kids have fun. I believe that if it is fun for them, they will
continue to participate in youth sports and eventually high school
sports. This type of involvement can potentially keep them out of
trouble especially in high school. At our local school, athletes are
held to a rigorous standard of character and academics.
I care deeply about the future of our youth because they are the
primary source of hope, not only for our little town, but for the
world. My involvement with our youth is engrained deeper than
refereeing. I have come to genuinely care for the youth of our town
because of the additional involvement I throw myself into. I am the
California City High School student school board representative and
it thrills me to hear about how the students in our younger schools
are doing or getting to watch them preform carols and patriotic songs
at our board meetings. What gives me the hope is when, after
preforming, they walk up and tell me that they remember me from
soccer season. Or while running the sound for our local dance
recital, watching them shine individually. Being so closely involved
with a handful of our youth has become a joyful and traditional part
of my high school career. I can only hope that my extended
involvement will lead a few of them to remember me and to also be
inspired to give back to the youth of their community.
Heavily involving myself in community service has planted a seed in my heart
and motivated me to continue giving back the next community I am a
part of. I hope that where I attend college I can continue my work as
a youth referee and in the lives of children to continue inspiring
them to be active members of their community.
Our soccer program is in a rebuilding stage, my time and the time of
other volunteers helps to nurture it. My hope is that when I come
back to visit my home town our program will be thriving. A new
generation of youth referees has already started learning how to help
out our community. My aspirations are to see a youth program that's
committed to helping children grow, which is what the volunteers of
our AYSO division have started. This town is fueled by its youth, and
volunteering for a program that provides for them is something that I
can be proud of in the future. Hopefully, I can inspire a few to do
the same.