Name: Oluwatobiloba Oluwadamilare Ayo-Ajibola
From: GRANITE BAY, CA
Grade: ttajibola3@gmail.com
School: ttajibola3@gmail.com
Votes: 0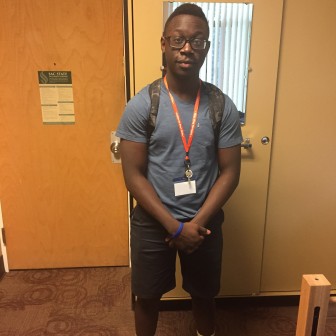 Tobi
Ayo-Ajibola
11/22/2015
Westberg
4°
Community
Service Project- Math Department Tutoring
Detailed
Description of Experience
My service project was tutoring students on mathematics afterschool on
Tuesdays and Thursdays. The levels of math I've been able to
provide assistance for are: Integrated 1,2,3; Algebra 2, Precalc,
Honors Precalc, and some Calculus. It is the end of the first year of
this tutoring journey and I can't believe how much we've achieved in
such a short time. I've logged over 55 hours of service and along
with two other volunteers, I've been able to help almost 50 different
kids develop a deeper understanding of mathematics. It's also
helped me identify areas in both my academic life and personal life
that are both strong and developing. One area was being able to
encourage others to do better. A sad reality is that this world is a
very individualistic place where it's all about "how I can get
further or how can I beat others to this or that?" I will admit
that I've fallen to this paradox in the past and have been consumed
by my own life and struggles but by having the chance to step away
from all the hassle in my life, I've been able to see that the
achievement of others is very important to not only themselves but
the school and community as a unit. A weak link breaks the whole
system and if any can be done to strengthen those who need help, I
want to be the person who comes in with the solution. An example of
how I've been able to aid another was when I was able to help a
student, who was failing Honors Precalc, pass the class with a B.
This was no small task for it demanded me to brush up on math I
hadn't touched in months! It was also an opportunity for me to
develop the ability to collaborate with other tutors to create a
lesson plan for the best result. We were able to work together and
lean on each other's diverse academic strengths to help this girl.
Another skill I've developed is giving worthy advice to those who
require it. This has manifested itself in the number of times that
I've heard the words "I remember what you told me and it helped
so much on the test". Honestly I was discouraged for awhile that
the tutoring wasn't helping others, but when midterms and finals came
around many people were coming in to thank me and the other tutors
for aiding them in becoming better. Overall this tutoring outreach
has proven successful and we've recently experienced a lower
attendance of repeat visitors which may suggest that our methods and
advice are proving successful!
My Feelings about My Service
Although the tutoring itself is a very tedious task, the reports that I get
every week from those I have helped are worth the toil. Granite Bay
is known for its high academic achievement but what many people
sometimes forget is that our high school is normal and has people who
struggle as well. It opened my eyes to the reality of how hard the
classes we have available are and made me thankful for the
opportunity to have these choices. I am thankful that something I
have a hand in can have such a profound effect upon another
individual. The effect even arose past the students themselves when a
student's mom waited for me to leave school and stopped me on my
way out to say thank you for helping her son do his best in Algebra
2.
Impacted Population
The target audience for our sessions are struggling high school students
who need guidance in their math studies. Once in awhile there would
be a surge of students by midterms who needed clarifications on
certain topics in math.
Community Need
To understand the need for this service in the community, it's
important to see the current state of things. Common Core Integrated
Math is a new program that Granite Bay math students must now take
to meet the state standards. This new program is more like an english
class and requires more essay-type reasoning than students are used
to. Although the material seems interesting, the plethora and mixing
of math topics often takes kids by surprise and more often than not
results in lower grades the first half of the semester. The sad thing
is many feel tutoring will make them look bad especially if any of
their friends see them. Also, the school really lacks enough
publicity on the tutoring in the math department because students
just go to the library where they won't find any specialized
tutors. The good thing is the fact that we have this service at all
because teachers after school hours can only last for so long because
many have families and other obligations that arise after hours and
it would be unfair to ask them to extend their work hours without
pay when there are able students who can lighten the load!
Improvements
One thing I must improve on is simplifying how I explain things because
all to often i find myself taking ideas of the advanced math class
I'm in and trying to tailor those ideas to the lower curriculums. In
order to fix this, it's necessary that i read in the textbook that
the student is using in that class so that i can reason and explain
things in a way that is more effective. Another minor issue is trying
to shape my schedule in a way that I won't be 3 or 4 minutes late
getting to titring. As an IB student, an active member of my church
and multiple clubs and rehabbing athlete, I have such a heavy
schedule. As a way to remedy this, I've begun to enter appointments
and events in my phone with a ten minute commute time so that I can
have more time to help the students.
Also I wish that there is more publicity on the location and times when
tutoring is available because when teachers talk to me, I get the
feeling that there are a lot more students who require assistance
than the number that actually attends the sessions. The Learning
Center and the Admin have tried to solve this problem with
announcements but so far the publicity hasn't had much effect.