Name: Bailey Lott
From: Summit, MS
Grade: Senior in highschool
School: North Pike High School
Votes: 295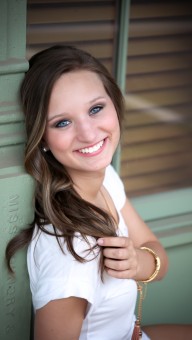 Giving back to others in my school and community has played a
tremendous role in my life. Since becoming active in community
service projects, I have learned to appreciate the things I have been
given and take nothing for granted in life. I believe, through
engaging in community service, I have become a much more
compassionate individual.
One way I have served my community is through my school mentoring
program, Jag to Jag. The purpose of Jag to Jag is to spend time with
and show kindness to elementary students who do not receive much
attention or affection at home and are, therefore, considered "at
risk". As a junior in high school, I applied to become a Big
Jag because I enjoy spending time with children. After being
accepted into the mentoring program, I was assigned my Little Jag.
My Little Jag and I met for ten months for about an hour each
month. Throughout the year I met with my Little Jag to do
things such as: go on an Easter egg hunt, play cards and board games,
eat at cook outs, along with several other activities. As I got to
know my Little Jag, she began opening up to me about her home
life. She explained to me how her parents had passed away when she
was younger and how her grandparents were now raising her and her
five siblings. One of my biggest challenges in being a Big Jag
was how heart-broken I was. I wanted to hug her and cry as she cried
while explaining her situation, but as a Big Jag it was my
duty to try to uplift her spirits. Before school dismissed for the
summer, my Little Jag gave me a huge hug around the neck and
told me that she had never been given as much attention in her whole
life as I gave her in one school year.

When I first met my Little Jag, she was disrespectful and mean
to her classmates, but, before we said our goodbyes, she had changed
into a completely different person. She was kind to everyone that
came around her and spoke respectfully to authority figures. Forward
looking, I believe my efforts in caring for this child created a
positive influence on her life. If I were to see her again in twenty
years, I would hope that she remembers my influence and now shows the
love, kindness, and discipline that I showed her to her own children.
I chose to be a Big Jag for one simple reason – to have a
positive impact on a child who constantly felt alone and miserable,
and I believe through being a Big Jag I have accomplished this
goal. I believe in being a Big Jag to the children in my
school district, I have practiced and better understood the
importance of showing children love and affection. Because of this
understanding, I have chosen to be a therapist for adolescents.