Name: Stephany Carrasco
From: Mira Loma, CA
Grade: 12
School: Eleanor Roosevelt High School
Votes: 0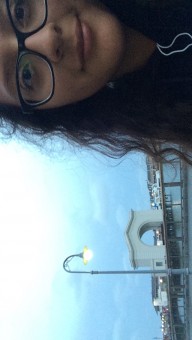 The
Joys of Volunteering

The area in which I have chosen to volunteer in was a health event hosted by my old Intermediate
school, where children and adults were given free dental and eye
check-ups from the students of the University of California, Los
Angeles. From what I can remember, I have had many problems with
eyesight, which made it harder for me to concentrate and learn in
school since I was not able to see the board even if I was upfront.
At that time, my parents did not have enough money to take me to an
ophthalmologist, which led me to be behind my education. Before I got
my glass, I felt degraded from the rest of my class and had a low
self-esteem, which is why I chose to volunteer in this area as it can
help a child to succeed and be able to see without the world being so
blurry and hard to understand.
This event is annually hosted at River Heights Intermediate High School
during mid-fall for two days. As a volunteer, we would come in at
seven in the morning a day before to set up and prepare breakfast for
the staff and medical students. As for the day of the event, my job
was to direct the patients to where they need to go, provide them
with water and snacks, and translate the concerns of a
Spanish-speaking patient to the medical student. My biggest challenge
as a volunteer was being able to properly translate the result from
the medical student to the patient since there were some words that I
did not know, but I was able to make it through by using words that
were similar to the harder ones. Even though I was faced with many
challenges and tasks, I was able to see the excitement of a child
getting a new pair of glasses and a nice smile. At the end of the day
I felt satisfied knowing I helped the future generation just by
volunteering.
Through this experience, I learned that there are a lot of children who do
not have enough money to get an eye exam or dental exam, which is why
I plan to spread more information about the event. However, I do not
plan to study a career in this, but rather in the education of the
future generations. I believe that my activities are "forward
looking," meaning that it will impact this generation and future
generations so that they will take action and help provided for the
children in their community and outside of their community. Which is
why I hope that in the future more teens will participate in
volunteer work so that they could help children see the world less
blurry and brighter. If I were to come back in thirty years or more I
believe that my volunteer activities would have made an impacting
change since one more child would be able to see and pay attention in
school, which would allow them to achieve their goals and help
contribute in the improvement of society through their own hard work.