Name: Noah Moral
From: Manteca, CA
Grade: 12
School: Sierra High School
Votes: 0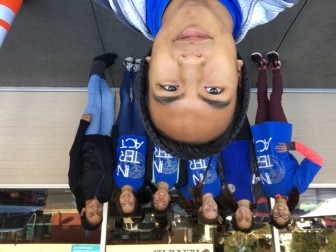 I'll be fairly honest, the original reason as to why I started doing
volunteer work was because it was a grade requirement for my
Leadership class. However, I found fun within the various jobs and
events, and I was able to meet a lot of new people and get closer
with the ones I already knew.
Though some community service opportunities were offered through Leadership,
most of my hours came through the local Interact Club. One of my
friends actually introduced me to it and I ended up sticking with it
for the next few years. I have volunteered for a total of about 100
hours per year for the past 3 years. With the Interact Club, there
were a wide variety of work opportunities that range from waving
around a sign for a street fair booth to serving breakfast on
Superbowl Sunday. Of all these events, the biggest challenge I faced
was being part of the infamous pooper-scooper team for a parade! Our
job was to trail the horses and clean up any mess that they made
while the whole town was watching. As embarrassing as it sounds, we
all made it as fun as possible and took pride in the job.
What always warms my heart is the reaction of a struggling individual.
Especially when we serve free Thanksgiving meals to the public, there
are often cases of homeless or poor people and families. When they
finally receive their food, the smiles on their faces light up, and I
can't help but smile back. This keeps me coming back to the next event and
the ones that follow. From volunteering at all these different
events, I learned what types of people there are in this world. There
are those who would abuse their right for an unlimited meal and those
who would feel blessed to have an extra bread roll. Learning to read
people is a valuable skill because it allows you to adapt to and deal
with the different types of people appropriately.
In my opinion, I believe volunteer work should be more about helping by
the individual rather than by the group. By focusing on one person,
you are able to reach out on a more personal level and you'll
have a greater impact. In the future, I am most likely not going to
remember a group of people whom I worked for or served. What will
stick out to me will be one or two key people that I have made a
personal connection with. If or when I see that same individual ever
again, I will be able to see how I impacted that person and how much
he or she has changed. This is what our club is about: Interacting
with others in order to make a positive difference in their lives.