Name: Sydney Smith
From: Horsham, PA
Grade: 11
School: Hatboro-Horsham High School
Votes: 0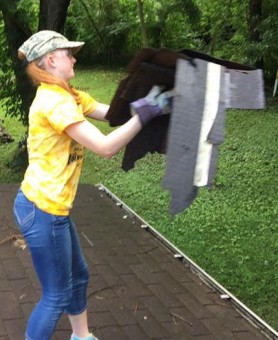 For years growing up, I always aspired to go on the mission trip held
by my church every summer. Everyone who went always came back and
said how much fun it was to help out strangers for a whole week. When
I finally got to participate in my first trip, we traveled to Boston
and for five days I got to help run homeless shelters and prepare
meals at a soup kitchen, but the best part was having a conversation
and giving food to people who were sleeping in the streets or under
trees in Boston Commons. The thing I've always struggled with most
is starting a conversation with someone I've never met before, yet
however awkward I thought myself to be didn't matter. Those people
I got to talk to were just elated to have someone to talk to, to tell
their stories to, and to just share a laugh. The most satisfying
thing in the world is to lend a hand and help someone out, to give my
own time without expecting anything but a smile in return.
This past year in Kentucky was much different, working one task of
rebuilding a roof all week instead of going somewhere different each
day and meeting new people. This backbreaking, finger-smashing task
seemed endless and without thanks until the third day. The owner of
the house, who we had not known to be inside the whole time, came out
and sat in an old rusty rocking chair on her front porch not more
than fifteen minutes before we were to leave for the day. When we
finished working and cleaning up, she asked to speak to us. Not able
to hold back her tears, she chokingly said "you all don't know
how much this means to me that you're fixing my roof. I can hear
everything and I've never known a group of teenagers to have such
great teamwork or care for each other like this." By the end of her
speech, every single one of us were crying as well. Never had we
thought we could mean so much just by doing the simple task of
repairing a roof, and that in itself speaks volumes to me, how we
were so wrong.
The sense of selflessness I have learned is near indescribable
through words, but is much better expressed through the feelings of
gratitude I've come across in my travels. Through my actions on
these trips I hope to have inspired in others my definition of
"forward looking," giving hope for the future by letting others
know they aren't alone and that someone wants them to live a happy,
successful life they define. I would hope one day, to return and find
people a little more optimistic and kind, with a willingness to help
others maybe as I had once helped them. With a small change in
everyone being just a bit more caring, maybe unfortunate situations
could be easier to overcome with a little help from others.