Name: Shawn Parker
From: Pooler, GA
Grade: High School Senior
School: New Hampstead
Votes: 0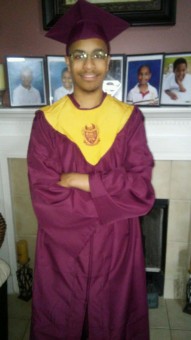 To
whom much is given, much is expected…
Giving back through Community service and volunteerism are investments that
my family strongly believes in because of my dad and his siblings'
childhood struggles. I will never forget when my dad told me, he and
his two siblings were the recipients of the Angel tree Program
because their dad was incarcerated. My aunt has even shared several
stories about their two occasions of homelessness. As a result of
their childhood my dad and aunt ensure our family is constantly
involved in a community activity or my aunt's non-profit for
homeless youth.
Prior to working with my aunt, I had never even considered the possibility
of a homeless youth shelter in Atlanta, GA. I always assumed that
Atlanta was one of the wealthiest cities in the United States, and is
even home to the most expensive zip code in the country! There
couldn't possibly be as many homeless youth in the city as to
even warrant a
homeless shelter…right?
I stood corrected as we walked the streets handing our food and
clothing. I spoke to some nearby employees, and learned that all of
their beds were filled to capacity since they opened, they are always
turning away people, and that a great number of the CHILDREN we would
be serving tonight were only there for a warm meal despite not having
a place to sleep for the night. It made me think of my warm bed and
food at home and suddenly I understood what my dad was saying when he
would say, "To whom much is given, much is required." That
statement is much more than just a Bible verse; it is my
responsibility.
My job was to distribute plates of the food and clean up afterwards. We
were to prepare enough food and disposable dinnerware for 200 kids.
The menu was not extravagant at all; it was just baked chicken, rice,
string beans, and a cookie for dessert. However some of the youth
told me that this was the best food they had received in a while that
I couldn't help but be sad. This meal, which didn't seem that
great to me and could not compare to what we would eat for dinner,
but it was the best that most of these kids had eaten in months. It
was even harder to learn that the volunteers had to oversee every
item even down to the sugar packets! The shelter employees warned me
that if we do not set a limit of 2 packets per person, the sugar
packets would quickly be snatched up by kids who would hide them for
the future or even worse, the kids would be beaten up by adults and
have their sugar packets stolen.
But perhaps the most difficult part of the night was limiting one serving
of dinner per person. I had to turn down kids who asked for seconds.
I did my best to pile on as much rice and string beans on the plates
in order to make up for this, but I knew it wasn't enough. The
youngest person I saw that night was probably ten years old. I had to
hold back some tears and it took everything in my power not to ask my
aunt to take the child home. After our duties were complete, while my
aunt was driving us back home, I just sat in silence. I knew my
aunt's non-profit was small but I couldn't help but wonder why
people weren't giving more money to help children. I was sad that
we couldn't do more. But at the same time, I couldn't help but
be SO thankful for what my brothers and I do have.
I am looking forward to our next 4th
Saturday outreach. You better believe that I will be returning and
seeking more ways to help the homeless youth whenever and wherever
possible.