Name: Laniyah Cacho
From: Los Angeles, Ca
Grade: 12
School: Westchester High School
Votes: 0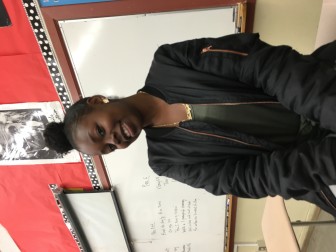 Laniyah
Cacho
I've realized the importance of giving back at a very young age.I became
immediately aware of the struggles people were faced with such as
homelessness and poverty. Volunteering at St. Francis Food bank has
greatly affected my love and passion for helping and giving back to
the community and encouraging the youth to pursue their dreams.
I've had the exceptional privilege of being able to volunteer at St.
Francis Food Bank located in Downtown Los Angeles, Ca, where I
organized and distributed food boxes to struggling families, helped
distribute hot meals to homeless people in the community, and
performed administrative duties such as data entry. I chose this
field because I was given the chance to not only do what I love but
to do it while benefiting others. Volunteering at this food bank has
given me the opportunity to make a positive effect on someone's life.
I felt great joy knowing that because of the hot meal I was able to
serve, someone wouldn't go hungry for the night or a family would
keep food on their table due to the food boxes that I handed out to
them.
I started my volunteer journey in June 2012 and I continue to enjoy
every minute of service that I give. I typically volunteer about 6
hours a day on the weekends during school and about 6 hrs a week my
winter and summer breaks. I have participated in several events in
the community including toy giveaways, game days, and safety
awareness classes. My responsibilities has included assisting and
directing children who are able to participate in them.
My favorite component of volunteering at St. Francis Food Bank is seeing
how grateful people are and how my time was able to make a difference
in their lives. I love the feeling of thankfulness or a warm smile or
even hug from someone so appreciative . Often times we bypass the
little things in life and some things are taken for granted, but "One
man's trash, is another man's treasure". Volunteering has taught
me to seize every opportunity and to use my resources to help make a
difference in someone's life. After a day of volunteering, I am
instantly reassured that helping people is truly my passion and
destiny in life, however sometimes it can be challenging for me
personally because I'm not able to help more. Often times I see
people in difficult circumstances or listen to the challenging
situations they may be in and am not able to further assist only
listen with compassion and offer friendly advice. I am always there
with a cheerful attitude and kool-aid smile, ready to be the sunshine
and brighten someone's day.
"Forward Looking" to me means to always be aware of how what is being done
in the present will affect the future. In the upcoming years, I want
to change the view on volunteering. Often times the reasoning behind
volunteer services may be the need for community service hours,by
mandate, as a punishment, or even as a chore. In the future I want
people to volunteer because they believe it's the right thing to
do. I want it to come natural to society and not be forced upon
them. I strongly believe my positive attitude will inspire others to
yearn for the opportunity to volunteer.
\