Name: Chika Nwanebu
From: Oklahoma City, Oklahoma
Grade: Senior
School: Bishop McGuinness Catholic High Schoo;
Votes: 0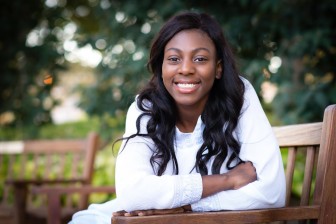 Leading
with a Servant Heart
Community service is a part of my life. As
long as I can remember service to others was modeled and encouraged
by my family and teachers. I have been in the Catholic School system
my entire life and I was born into a Catholic family, therefore
helping others was basically second nature. To say how I have been
transformed in the past tense paints an incomplete picture because I
am still learning and growing, both being shaped by the process of
service and shaping the process by which I serve. So you may be
wondering why I titled my paper "Leading with a Servant Heart".
Leading with a servant heart means putting other's needs before your
own and to try to help others feel needed. By doing service work I
believe we are fulfilling this definition. We all have something to
give, and a life of service expands one's
world exponentially and unexpectedly. To serve others is to minister
to others and help others in various ways, it is not to do it for
show or publicity, but simply to enrich and help the lives of others
and your own life. Everyone can help others in some form or fashion
and can realize that helping others can give our lives a sense of
meaning and purpose.Blessed Pier Giorgio is the Patron Saint of
Bishop McGuinness Catholic High School. He was a very selfless man
and he was dedicated to help those apron him in any way possible. He
truly embodied the saying "He is greater than you is greater than
me."
Blessed Pier Giorgio dedicated his life to serving others and found a deep
sense of fulfillment. I believe we should all contribute to the
welfare of others by helping meet physical, emotional, and spiritual
needs.
It is easy to feel too small to make a difference as only one of more
than seven billion people on this planet.
Blessed
Pier Giorgio never thought of himself when he went to help others and
he never thought of the benefits and I try to embody that when I do
service works. Even the smallest candle is capable of giving light,
and when a clump of tiny candles burn together it fills up a room, a
life or a cause can turn into a montage of hope and change. The
simplest action can initiate a ripple effect that spreads around the
world. What
I can never hope to do alone may be possible with the shared efforts
of others. Whether
it is holding up signs at the Memorial Marathon,
collecting
shoes or coats for kids in need,
or helping a shy child discover her voice through a summer camp,
each day brings another opportunity to serve, share, learn and grow.
Our culture sends strong messages to seek one's
own self-interest first, to get as much as one can, and to consume
without regard for one's
neighbor. In contrast, community service encourages me to actively
listen and learn from others, to walk alongside my neighbor, and to
build new relationships. The transformative effect of service
continues to mold and shape my life, giving me reason to light my
small candle every day in hope of a better world.
This past year I received the opportunity to travel to Peru as a
missionary. When I went to Peru we were around a lot of sick people.
I ignored the fact they were sick and I still helped them to the best
of my abilities. Jesus
came into this world to serve others, not to be served. Serving
others might be considered as work by some, but it is an act of
worship and spiritual activity. As Catholics, God calls us to be
ministers and have a heart to serve others and put the needs of
others above our own. Throughout my high school experience doing
service work with my friends will be one of my best memories.