Name: Johnathen Baggett
From: Dover, Arkansas
Grade: 12th
School: Dover High School
Votes: 0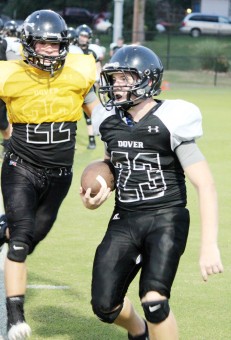 Lending a Hand
By:
Johnathen Baggett

In the past year I have volunteered quite a bit, from catering
wedding receptions to serving food to veterans at our local Boys and
Girls Club. When these opportunities come up I'm always happy to
help out, especially when I have help from my family and friends.
On an average I put in roughly 10 to 12 hours a weekend. Weddings
usually come up frequently but hours increase over holiday season
like Thanksgiving and Christmas. I'm on my colleges competitive
cheer team and this gives me hours in the summer to fill a void when
there's nothing to do at home. The team gives me the opportunity to
put myself out there and help our student body as much as I possibly
can and do it with a positive attitude and a big smile on my face.
This summer with cheer alone I have completed 17 hours of volunteer
work and it will keep increasing throughout the school year.
As a volunteer my responsibilities change from job to job. With weddings
I serve food, pick up trash, and set up and clean up before and after
the job. When the holiday season's rolls around I usually set up
and decorate Christmas trees or put out arrangements. Last
Thanksgiving we carved pumpkins with the children in elementary
school and made the same kids ornaments for Christmas. Our local
hospital sometimes offers me volunteer hours and I help out in the
kitchen preparing food for the managers meetings and set up that
event for them.
I do a lot with food when I do my volunteer work and the amazing thing
I have experienced is that good food is what brings everyone
together. The interactions you make with people and the conversations
that come up and the opportunity to be able to listen to their life
story is quite amazing. A few weeks ago I worked a wedding for a
couple that was getting married, that was the normal part. What was
different was the people I got to come into contact with, it was a
military wedding so the families from both sides came from all over
and I've never been in an environment with that much diversity. I
had a conversation with a man from New Jersey and in that time I told
him about my vacation to New York and how we stayed in Jersey and he
asked if I ever got out of the city as to which I answered no and he
presumed to tell me how I missed out and how the country was gorgeous
and is something like id never seen before. Being able to have this
chance to communicate with people from all over is truly satisfying.
Though being a volunteer can be rewarding and satisfying it also comes with
challenges such as people who don't always appreciate what you're
doing for them, or just a instructor who is very difficult and picky
with what and how you do your assigned job. The biggest challenges I
face as a volunteer are the people. It is somewhat ironic how earlier
I said people I encounter are the most satisfying part of
volunteering but people are what make volunteering a blessing or a
living nightmare.
In my time volunteering I believe I've made a positive impact on all
the people I have interacted with. So with this being said when I
come back in ten to thirty years and see the people I've
volunteered for and the people I have helped I think they'll
appreciate the things I did. Looking into the future and with my
background of volunteering I think it has made me discover what I
want my career to be and that's in the medical field because I love
helping people whatever the circumstance. My volunteering experiences
have made me who I am and will continue to make thrive to lend a
helping hand to my community.