Name: Shelby Bagby
From: Forney, Texas
Grade: 12
School: Forney High School
Votes: 119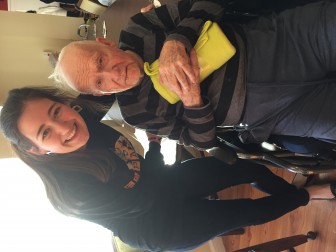 Mr. Dennis isn't like all of the other residents at the retirement home
near my school; he has Dementia. At the ripe age of 92, he taught me
the value of the Glory Days through hours of conversation I have
spent at the side of his wheelchair. I learned that Mr. Dennis is a
war veteran because on Veteran's Day he stood up at bingo and was
presented with a special flag. Mr. Dennis is a college graduate from
Abilene Christian University and later became a dentist. Both of my
grandfathers died before I was born, so my relationship with Mr.
Dennis became even more real as he filled the grandfather void in my
life. For the hour a week that I volunteer at the center since last
October, I simply sit and talk with him. Although he forgets my name
and my existence, I keep going because he wakes up from his nap when
I arrive and smiles at me with the teeth that he has left. He looks
joyful and entertained when I tell him of my tennis adventures and
school homework assignments, even if I do have to repeat it more than
once in voice almost shouting because he can't hear like he used
to. He loves it when I play piano for him, even more so when I play
the hymns he remembers from the church filled Sundays he spent with
his wife and kids. One day, he was wheeling around, rounding up other
residents to head to church, making sure everyone had their jackets
on and were ready to go. Only they weren't going to church on a
Wednesday at four in the afternoon, but he couldn't understand
that. He became angry when the nurses wouldn't help him leave to go
to church. He wouldn't eat dinner that night refusing his thickened
water and pureed vegetables because "we are about to leave so there
is no time for supper. I'll eat when I get back." It was
difficult for me to see him so confused and frustrated and something
that he doesn't have control over. Mr. Dennis loves to give me life
advice, and I heed every word that he speaks. He tells me that I have
to do something with my life that I love and that I should never stop
learning.

In my final months before graduation, I helped organize events so that
other clubs at my school could get involved there, too. I have high
hopes that the organizations will continue to visit the residents,
fulfilling my dream within a few decades that every resident has an
"adopted" grandchild from my school. Volunteering there has
reignited my dream to become a family care physician so that I can
help people of all ages. My activities at the retirement home were
Forward Looking because I invested in the life of another human
being. I realized by volunteering there the importance of connecting
generations, to pass on the wisdom one has learned to another.