Name: Angel Leija
From: Santa Barbara, California
Grade: College Freshman
School: University of California, Santa Barbara
Votes: 0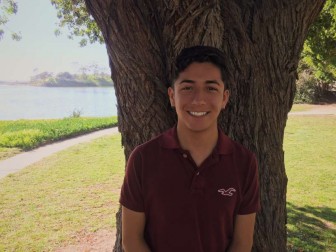 LGBTQ Love Over LGBTQ Hatred
LGBTQ teenagers are more than twice as likely to end their life than compared to
heterosexual teenagers. 23% of LGBTQ teenagers believe that their
life will not get better. 92% of LGBTQ teenagers hear negative and
insulting messages about being their true beautiful selves. 49 LGBTQ
identified people have been murdered due to hate in Orlando, Florida
in June of 2016.

Being LGBTQ in the United States is a continuing battle among
students, officials, politicians, professionals, and children. I
faced depression and disappointment by simply being who I am, a gay
male while being in high school. The teasing and taunting will always
be ingrained in my mind and the daily reminders that I am not wanted
by many will never go away. I decided to volunteer at the Resource
Center for Sexual and Gender Diversity (RCSGD) at UCSB because I do
not want to allow pain and hate to continue thriving in the US
society, especially with youth. I had the privilege of finding
strength to be Out in public and embrace all aspects of my identity
while many others don't find that same strength.
The RCSGD provides workshops, safe zones, education, and security to LGBTQ students on
campus and in the community. I would volunteer about 2-3 hours a week
for the entire school year with the RCSGD. My responsibilities
consisted of promoting RCSGD events, teacing LGBTQ education to
students, creating original Instagram posts for the RCSGD Instagram
page, and to create a safe space for all students at UCSB. I was
awarded with the Rising QTPOC Leader Award by the RCSGD during Pride
Awards. I have become a Co-President with the QiTO Club (Queers in
The Outdoors) which creates a safe space in the outdoors and sports
to LGBTQ folk. Having the opportunity to be part of a community and
team has changed my life completely in the way that I finally feel
accepted and strong enough to become a Civil Rights Lawyer.
All of the opportunities and experiences I have had with the RCSGD has made me
be part of a social movement that is bigger than all of us. I am part
of the new civil rights movement that is to help LGBTQ folk in the
United States. I keep a "forward looking" mindset whenever I do
work for this community because if one does not have a goal in place,
then one is not moving forward. The goal and change I see in the
world is not having the statistics I stated earlier, to hold the
person you love without judgment, to have our LGBTQ identity but not
be discriminated for it, and to be happy. I truly believe that the
work I am doing is leaving a huge impact at UCSB simply because we
are voices our identities and experiences. The true key to social
change is through education and with more people standing up against
discrimination, there will be a change seen in years to come. Pride
over prejudice, love over hate.