Name: Josh Kaplan
From: Scottsdale, AZ
Grade: Junior
School: Rancho Solano Preparatory School
Votes: 83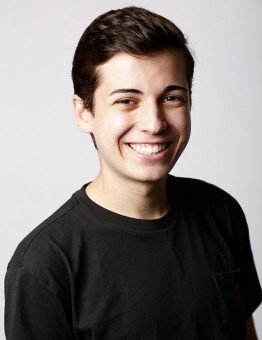 When I was younger, I had a terrible stutter and had trouble making
friends. My parents signed me up for a soccer team in the hopes that
being part of a team would help. I wasn't
particularly athletic, and I could barely kick a ball. But soccer is
a game that anyone can play. On the soccer field, my stutter didn't
matter. The soccer field is where I learned to be me. 
One of my teammates had a brother with Down Syndrome. Every season, he
came to our games to watch from the sidelines, kicking a ball by
himself. He had a uniform and cleats, but because he also had an
intellectual disability, there was no room for him on our team, or
anywhere else. I realized that although soccer is a sport for
everyone, not everyone is included in the sport.
In February of 2015, I launched GOALS (Giving Opportunities to All who
Love Soccer), a Unified soccer program for kids with and without
special needs. GOALS partners youth athletes who have intellectual
disabilities with neuro-typical peer buddies. The athletes and
buddies play together as Unified teams in small-sided,
non-competitive soccer scrimmages. The first GOALS program had just
nine participants. Today, we hold GOALS events twice a month for more
than fifty players of all abilities, as an official partner of
Special Olympics. I've invested hundreds of hours into GOALS, but the positive impact is
more than worth the time.
GOALS champions people for what they bring to the community. For many kids,
GOALS is the first time they experience genuine acceptance. The
athletes and their buddies have developed friendships that extend
beyond intellectual abilities. The changes in the athletes because of
GOALS have been remarkable. Micah, an athlete with autism, was
terrified to come to his first GOALS event because he believed he
"always messed everything up."
He played video games by himself every day because he never felt
accepted at school. Just two hours later, he was begging with his
mother to stay longer. The soccer field soon became his home, just
like it had become mine. After a few weeks, Micah's
entire outlook has changed, and he is an outgoing 10 year-old, both
on the field and in the classroom. Now Micah plans to join a
competitive Unified soccer team through Special Olympics.
I have seen, in a personal way, how easy it is for others to assume that
people who have difficulties verbalizing their thoughts must not have
thoughts worth hearing. Were it not for the physical indicators of
their intellectual disabilities, these kids would be treated as
equals. Although they express themselves in different ways, they
always express the pure joy of being treated as one of the gang, no
more and no less. GOALS is so meaningful because through sports,
anyone can communicate that each of us is valued, each of us is a
part of the team, and each of us is a friend worth having.