Name: Caroline Muller
From: Haymarket, VA
Grade: College Freshman
School: University of Mary Washington
Votes: 0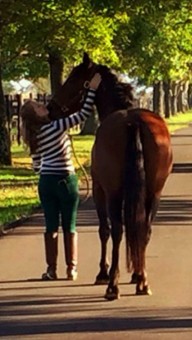 Picking one area to volunteer in, when so many are worthy and in need of
assistance, proved to be difficult for me, so I decided to volunteer
for people. Volunteering at a retirement home, nursing home, two
therapeutic riding centers, and even running my own fundraiser to
provide supplies for the homeless on the streets of DC are all
examples of my experience working with an array of people. In high
school, I volunteered at both a retirement and nursing home twice a
week. Senior year, I decided I wanted to work more with kids, so I
signed up to volunteer at two therapeutic riding centers twice a
week. All organizations need the help, so instead of picking one, I
decided to help out two local centers. Since starting college, my
time has been more scarce, so I decided to run fundraisers throughout
the year. Organizations I have fundraised for include a therapeutic
riding center, Area 2 Young Riders, and my homeless project.
Volunteering at different places provides the opportunity to work in different
jobs, but they all involved working with people. At the retirement
and nursing homes, I assisted residents in daily tasks old age had
made difficult for them to complete. The therapeutic riding centers
allowed me to combine my love of horses with kids by assisting them
in their therapy riding lessons. The homeless project I put together
allowed me to fund raise, gather supplies, and meet kind strangers on
the street who beam at simple supplies we often take for granted.
Volunteering has given me a sense of purpose by helping a variety of
people in my community. To be honest, the hardest part about
volunteering is that I cannot volunteer more for other organizations.
The most important lesson I have learned from volunteering was when I
was handing out bags during my first homeless project. When handing
out bags, I came across a man who turned down his bag, saying there
is someone else out there who needs it more. A man who lived on a
park bench told me he had enough and to find someone more deserving
than him. I have never been so amazed by the kindness of others than
in that moment. The selflessness of those with nothing giving away
the little they could have had was an act I never thought to
experience.
Through volunteering, I hope to leave the world a better place. In the
future, I know the actions I have made in volunteering will make a
difference. The kids I worked with at the therapeutic riding centers
often go on to achieve goals such as walking or talking- tasks they
were unable to do before. Watching the kids I worked with grow
inspired me to continue working with kids with special needs. I knew
my purpose was to help others, and through my volunteer experiences,
teaching special education proved to be the perfect occupation for
me.