Name: Shirley Y. Gonzalez Diaz
From: San Juan, Puerto Rico
Grade: Freshman
School: Universidad del Sagrado Corazon
Votes: 0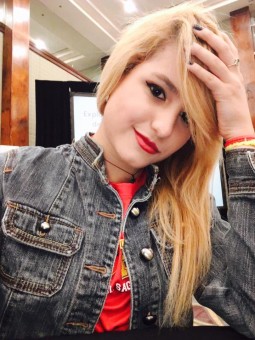 Many of us wonder through life looking for special moments, things that fill our hearts with joy and
meaning. For me, most of those moments happen through volunteer work.

At my college there's an artistic group called "La Red"; we
are a network of prevention against drugs, alcohol, violence, etc.,
and we carry out the message through theater, song and dance. We
dedicate long hours during the week from Monday through Thursday to
create a show to present each Friday at different high schools
throughout the island. I am very lucky to have become part of this
amazing family when I started college in August 2015. As a volunteer,
my responsibilities are to not only to learn the choreographies,
songs, and skits, but to portray them with kindness and meaning so
that the children will be touched with the meaning we want them to
understand. I must admit, it is a challenge when we have to perform
for kids who have been victims of these behaviors at home and are too
caught up in them to listen to us and see that life could be better,
but nothing in the world compares to the feeling and satisfaction you
get when you see a child crying or smiling in the audience because it
means you connected with that child. It means that the child wants a
change in their life and is willing to fight for it and not be part
of the crowd who chooses corruption. It means that that child could
be a leader, a change in the world. The world can change due to
volunteer work; I believe volunteering is a way to retain our
humanity. It reminds us that there is hope and that you, as an only
individual can make a change even when everyone says the contrary.
Never believe that, for the sky is the limit and you can do anything
you put your mind to even if it is changing the world for better.
Volunteer work has changed me. I have seen things I couldn't even
imagine possible; I have a way of thinking clearly because I know in
what conditions the world is. Volunteering has helped me be kind and
brave.

In conclusion, I believe that it doesn't matter what your mayor is, everyone should experience
volunteering because I guarantee you, it feels good to receive but it
feels better to give. I strongly believe that if I come back in
twenty, ten, or even a year, I will have made a change in that
child's life. Maybe that child wanted to steal and corrupt the
world when he grew up until he saw us, a group, a family that can
have fun and live life safely, without the use of unnecessary
substances or violence. I see any type of volunteering as "forward
looking" because we are looking forward to a better future not only
for us, but for those future generations to come. They deserve it.