Name: Mykyla Ross
From: Tulsa, Oklahoma
Grade: junior
School: Booker T. Washington High School
Votes: 2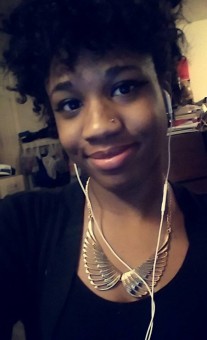 Growing up in a community where poverty, violence and crime thrive has
influenced me to make a difference. Everywhere I go, I see the
homeless in need of something. As human beings we have two hands, one
to help ourselves and the second to help others. I wanted to help and
give back because I believed that no one should go without.
By following my heart and belief I committed 1500+ hours to my community
since the age of 11. From 2010 to 2013, I volunteered at The Food
Bank with my church along with the organizations, You Go Girl and
John 3:16. Our job was to organize the donated foods section by
section; it gave me satisfaction to know that families and others
would not miss a meal anymore because of the amount of food that was
donated. Entering high school as a freshman I joined Key Club.
Joining this club gave me so many opportunities to help my community.
I was so eager to take on these projects. I volunteered at the
Salvation Army, Food Bank, homeless shelters etc. My responsibility
was to collect hygienic items, make kits, donate, and sort donated
foods. I was astonished by how many people benefited from these
simple acts of kindness.
In 2014, joining the Women Empowered Club has not only encouraged me
more to give but also taught me the true meaning of giving. During my
membership, we went on projects to volunteer at hospitals and
elementary schools. At the hospitals we comfort the patient when they
were going through a tough time with their condition and needed a
friend. By simply a friend to someone that need encouragement, is the
best way to give. At the elementary schools we assisted the teachers
with the students by reading to them and tutoring them. Some teachers
are unable to help all students because it's so many of them. So it
felt great to help in the elementary schools I went to.
I hope in twenty years or so that the poverty rates in my community
would be low. That no one would be without food, education, or
clothes. I hope that these acts of volunteering encourage others. The
statement, "look forward" means to me is to seek for a better
tomorrow. I hope my heart of giving has greatly impacted my
community. It only takes one person to start a chain of actions.