Name: Gee Kim
From: Providence, Rhode Island
Grade: 12th
School: Brown University
Votes: 27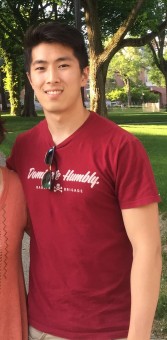 As I relaxed on a charter bus, watching the Peruvian landscape shift by,
I saw a sorrowful excuse for a village. I looked at my teacher, Ms.
Manning, as we questioned the ethics of poverty and social
stratification. "I'm so sorry that my generation had to ruin your
future with our mistakes," she said. This sincere apology made me
realize that my ambitions are best for helping others. Volunteering
helped me solve my biggest challenge — what is my my niche? My niche
is in medical anthropology. Politics, business and culture complicate
access to medical care for the minorities of many countries, even
though our society demand an equal chance at a healthy life for
everyone. I aspire to change the way people see medicine; it is not a
commodity, but a manifestation of love for humanity.
After two years of volunteering to raise funds for blood drives, and
children's hospitals, I decided to volunteer in conservation
research in the Pacaya Samiria National Reserve in Peru. My
assistance in tracking animals, speaking to villagers, and learning
the politics behind the Amazon Jungle revealed that the research not
only helped ensure funding to protect the land, but also to protect
its impoverished villagers who were subsequently given medical care
and health education by their government and conservation
organizations. Volunteers like me are seen as hope by the indigenous
villagers that they may get medical attention. The study of medical
anthropology will be my opportunity to question society's current
guidelines on health and education. It will be a path toward
self-actualization, as its practice calls for altruism.
As a medical anthropologist, I will direct my ethnographic research to
address all sorts of demographic minorities, such as drug users
within our country. For example, a drug crisis in Puerto Rico has
resulted in a HIV/AIDS epidemic. Statistics from research done at
Emory University have shown that something as simple as establishing
a needle exchange program in Puerto Rico could prevent a third of its
HIV cases. A medical anthropologist's priority in this case would
be to understand the environmental and sociocultural factors that
shape our country's view of drug users and to use that data to
educate the public, and implement social change. I'm looking to
change society on a broad scale; that is what forward looking means.
My decisions to volunteer in Peru and pursue medical anthropology are an
act of my love for humanity. I did not grow up with an ideal
childhood; my family went through financial hardships, I was bullied
because of my race, and I overcame periods of depression that I hid.
Through the periods of turmoil that I overcame, I always found joy in
volunteering for others in need, which made me realize that I have a
duty to serve for a greater cause, despite whatever adversities;
political, cultural, financial, or personal. Ms. Manning may feel
despair that she is leaving me with the problems of her generation,
but I will make her proud by creating change.