Name: Brianna Seymour
From: Sterling Heights, Michigan
Grade: 12
School: Utica Academy for International Studies
Votes: 95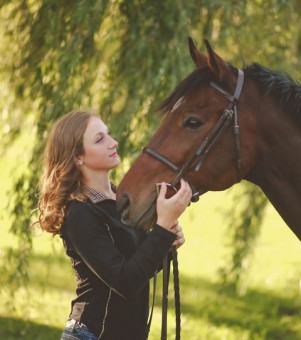 I started 4-H 3 years ago because I loved the idea of being a part of the community
and being with a group of people who have the same interests that I
do. Many people think that 4-H is just an organization that shows
animals at a county fair. However, that is not the case; we
participate in many community service opportunities. In order for us
to be a part of the fair we must complete at least 10 hours of
community service or go to 3 events. I have now been president of my
4-H club for 2 years now. As a president I commit many hours creating
plans for the group, going to meetings, and also going to as many
volunteer activities as I can. Some of these activities included
working at ice cream socials, picnics, cleaning farms, filling Easter
eggs, running petting zoos, etc. The more I got into volunteering in
4-h the more I wanted to expand my horizons.
I looked formore community service activities around me that benefited others in
my community. I found out about O.A.T.S. (Offering Alternative
Therapy with Smiles) therapeutic riding stable through a friend and I
was immediately interested. I volunteered there as many Saturdays as
I could. I either worked as a walker alongside the horses and riders,
cleaning the stables, getting horses ready to be ridden, and even
riding the horses. Since I have had many years of experience with
horses I was given the harder tasks and was allowed to handle the
horses more than others.

I have volunteered with many other organizations within my community
and school. For my school I needed over 50 hours of community service
to graduate, which I exceeded easily. All together I have volunteered
over 200 hours in the past couple years with 4-H, school, and on my
own. Some weeks I would volunteer for 8-10 hours during the school
year and in the summer around 15 depending on what events are going
on. My favorite volunteering activities are the ones that include
animals because I have had a passion for horses my entire life and
have loved all animals. One of my favorite groups to volunteer for is
O.A.T.S. because of this passion. To this day the most memorable
moment of volunteering was when I was leading a horse and rider for
O.A.T.S. on a trail ride; I've never seen someone as happy as the
rider that day, they had the biggest smile on their face and didn't
want to get off their horse. Through volunteering I have realized how
lucky I am to have the life that I do; compared to others I'm
living an amazing life. Since I've started volunteering I stopped
taking things for granted and enjoyed the little things in life. The
biggest challenge for me has been understanding how I have had a good
life while others are suffering. To me it seems so unfair, but
through volunteering I want to make their lives better.