Name: Danielle Kraes
From: New Hyde Park, New York
Grade: 11
School: Great Neck South High School
Votes: 0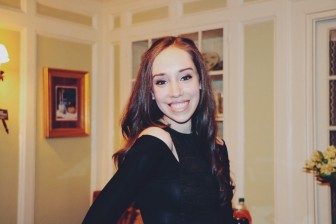 Danielle Kraes
When I volunteer I feel like I am on top of the world: excited,
exhilarated, and energized. Ever since I was a child I have been
passionate about giving my time to help others. In fourth grade I
got my first volunteer t-shirt! Every Thursday night at the Samuel
Field Y, I would teach kids with autism how to play basketball. Every
week, I coached a six-year-old girl named Rachel. Each time we met
she learned a new basketball skill. By the end of the year she was
able to dribble with coordination and shoot a basket all by herself.
We developed a close friendship as a result of our weekly meetings. I
felt so proud that I was able to teach and connect with her.
My love for community service grew tremendously as a result of the
volunteer opportunity I had been given. In sixth grade, I became a
member of United Synagogue Youth, an organization for the
youth movement of the United
Synagogue of Conservative Judaism. The goal
of this organization is to bring Jewish teenagers closer to Judaism
and Israel through learning and social interaction. In my youth group
chapter I have served as a SA/TO, which stands for social action and
tikun olam (world repair). While serving
as SA/TO, I helped my chapter, region, and community create fun
programs that engaged other teens to participate in community
service. After taking on the role of SA/TO I became vice president of
my chapter. I wanted to assume a bigger role in recruiting members
and facilitating events.
The
skills I acquired from being a volunteer enabled me to continue my
love of serving the community. I am currently very active in the
Academic Outreach Club and American Sign Language Club. Every
Monday, after school I tutor a seventh grader named Nicole. I help
her with homework and any school subject she struggles with. She has
been making progress; it is so rewarding to see that she uses new
study methods I have taught her. Her problem solving skills and
memorization techniques have improved immensely.
For
the past three years I have elected to study sign language. To
strengthen my skills; I joined the Sign Language Club. I have served
as Treasurer, Secretary, and Vice-President. I participate in club
events as well as spread awareness about the deaf community.
I
love working with children and hope to pursue a career with children
in the future. This year I became a volunteer at St.Mary's
Children's Hospital, which allows me to gain experience working
with children in a health setting. As a youth counselor I play, feed,
and mentor children with disabilities. On my very first day, I felt
as though I was in my second home. The children welcomed me and made
me feel appreciated. They have inspired me because they taught me how
to treat all that surrounds me with kindness.
All
of my volunteering experiences have shaped me into the person I am
today. Through giving my time, my purpose is to assist others. I have
come to learn that I have benefited in so many more ways than I have
given. Wherever there is a human being, there is an opportunity for
an act of kindness.