Name: Charilys L. Silva
From: Fort Sam Houston, Texas
Grade: 12
School: Robert G. Cole High School
Votes: 0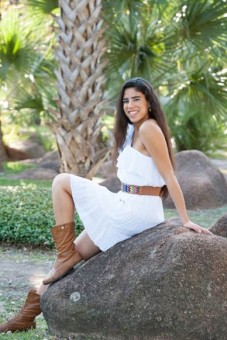 Making a difference in the world is what I strive for. Helping others and
serving my community is what I enjoy doing. Volunteering means so
much to me, it offers me the opportunity to give to the community and
give to those, who are in need, a helping hand. As a volunteer, I
get the chance to make a mark in the world and encourage others to do
the same.
I have had the opportunity to volunteer in different organizations.
For example, Pets Alive Animal Shelter, Boys & Girls Club,
School, Church, Teen Retreats, Youth Centers, Community Fun 5K Runs,
and many more. I am currently active in many of the organizations
mentioned above and serve more than 200 volunteer hours monthly.
Each one of these places has inspired me in many ways. For example,
volunteering gives me a sense of what my community's needs are. It
allows me to learn new things and gives me the chance to network and
connect with other people with the same intentions. I enjoy helping
others because it generates a sense of caring.
Some of my volunteer responsibilities are educating children, between the
ages of 4 and 8, about Children's Literature during church.
Walking dogs of different breed and sizes at Pets Alive Animal
Shelter, as well as feeding and bathed them. As part of the Boys &
Girls Club, I have represented my school along with three other
members, during the 2016 Key Stone Conference in Dallas, Texas. As a
Boys & Girls Club member, we focus on different community
services and activities. For example, community neighborhood
beautification and making gift bags during Holiday events to be
delivered at Children's shelters. The majority of the times I have
volunteered, I have experienced wonderful memories, but in some
cases; I have also encountered difficult challenges. One of my
biggest challenges is when I volunteer at the animal shelter. Many
times when I walk large dogs, it is difficult to have full control
over them since they are big and heavy. They also tend to get really
excited and start to pull on the leash. In cases like that I make
sure I use my strength and command voice to control the dog's
behavior. When the dog begins to respect my commands, I know that I
have successfully accomplished my goal.
My biggest satisfaction as a volunteer, is winning the 2016 Youth
Volunteer of the Year Award this past April. I was nominated along
with other teens from our community and was selected as the winner.
Also, I have learned many things that I will utilize in the future.
I have learned the willingness to give my time to help others and how
to become a leader.
When it comes to volunteering I am always the first person to offer help.
Since I love to volunteer, everything I do is sincere and honest.
Volunteer allows me to make a difference in the community. My
biggest goal is to influence other people in doing the same, helping
others. It is a great satisfaction to know that by volunteering I
can make a difference.