Name: Shannon Chen
From: Irvine, California
Grade: College Freshman
School: University of California - Santa Barbara
Votes: 0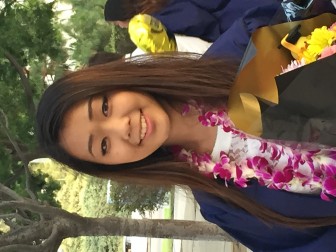 Eager to understand the true potential of my campers, I elucidated the
instructions as I tied my apron–splattered with color from previous
projects. Filled with a mix of curiosity and confusion, the campers
scrambled to asked me, "How are we going to build a sophisticated
structure like the Taj Mahal in twenty minutes?" Although they were
overwhelmed by the requirements for the project (i.e. the
structure needed to be able to stand on its own and fit every
teammate underneath), I assured them that I would be there to support
and encourage them throughout the entire process. With their
confidence reinstilled, I advised them to draw a blueprint of our
structure so that they could see our goal on paper. To the sound of
triumphant cheers, my first group exercise had sparked undivided
determination.
"Begin!"  Grabbing the newspapers and rolling them into durable columns,
I guided the campers through crafting each piece of the structure. As
we watched the newspaper start to resemble what we had imagined, I
pointed out that each person's piece was crucial, but working
together to align our pieces was just as significant.
When I was in middle school, I joined this camp only curious enough to
play games. I was like many of the campers that I work with now:
sheltered from all the problems that existed in the world. However,
my camp leader opened my eyes to ongoing issues (e.g. poverty, global
warming, and discrimination) and gave me the opportunity to broaden
my scope of the world. Whenever I needed help to better understand
the activities that we were doing, I knew I would always be able to
rely on my mentor. Consequently, my camp leader has proved to be a
pivotal figure in my life; in fact with his guidance I have realized
that I am passionate about education. That is why I have been
perpetuating the experience I had when I was a camper for new
campers.
As I watched all the inquisitive campers express their eagerness to
learn more about community, I began to see their pride; they believed
they were capable of greatness. All they needed was someone to teach
them how to become innovators like how my camp leader had taught me.
Through my own Peace Camp experience as a camper and also leading a
group of young campers, I have witnessed the tremendous influence
that teachers and role models have on kids. I believe that children
need to be taught at a young age because that is when their minds are
most resilient. It is important to draw them as close to their
aspirations as possible. Thereby I wanted to expand their capacity to
learn and encourage their intellectual curiosities.
Taking a step back and looking at our completed structure, standing five
feet tall on a sturdy newspaper platform, I was confident that my
campers were ready to unlock their true potential.