Name: Mariya Dimitrova
From: Canton, NY
Grade: sophomore
School: St. Lawrence University
Votes: 0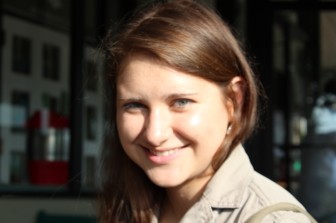 Besieged by the cacophony of wheelchairs, visitors, busy nurses and loud
babies, my ears were engulfed by noise. I became the overwhelmed bee,
moving from the tranquility of the meadow into the endless buzz of
the hive. Proudly holding the urinary catheter supplies, I arrived at
the first room. I put on my gloves and gown and hesitantly knocked on
the wooden door. He was an elderly man whom the nurses described as a
"complete nightmare," always complaining and yelling. I tip-toed
in, hoping he had fallen asleep by the time I came to his bedside.
Mr. Scott immediately recognized me as one of the young doctors who
had stitched up his amputated leg. Although the idea was appealing, I
confessed that I was just one of the volunteers for the day and was
here to replace a urinary catheter. Disproving my expectations, Mr.
Scott did not lose his respect for me, but rather seemed more polite
and understanding. After a moment of silence, he uttered in a casual,
yet hopeful voice, "You know, if you have time, you can sit for a
while."
Confused and distanced, I listened attentively to detailed stories about old
movies, shipbuilding and the Marines. The facts were not what touched
me, but the story of his life. Mr. Scott had spent many years on the
go and never settled down to a family or any real friends. Only
salesladies, eager to recruit him to their nursing homes, visited the
room. I was one of the few people he did not yell at all of the time.
This, in addition to the nurses' understandable contempt toward Mr.
Scott, motivated me to reach out to him. The doctors appreciated my
frequent visits. My bonding with Mr. Scott helped them to diagnose
and treat. My time at the New York Presbyterian Hospital suddenly
became more meaningful.
"Get me something to drink! I'm bored out of my mind!" he yelled over
the phone at the nurse's station. I walked in. "Hi John. How are
you today?" Usually, I felt as if we were playing a game, where he
yelled and complained and I respectfully listened. Throughout the
summer, however, something changed. John often spoke about the
horrible nights he experienced: the terrible lighting in the
building, the overburdened nurses, the unacceptable walls and the
broken clock. After years of limitless travel around the world, this
man was now caged between the white walls of the edifice and the
limitations of the present medical system. Part-exaggeration and
part-reality, Mr. Scott's negativity crushed me on the inside, but
I kept my composure.
As the summer progressed, I too became less reticent. His adventures
around Europe reminded me of my own from my native Bulgaria to the
United States nearly nine years ago. I shared with him my aspirations
of becoming a doctor. "It's quite the experience you're going
through here," he ironically observed as I emptied his bedpan. He
was right. My experience volunteering nearly 400 hours those two
summers taught me the importance of being able to understand and
relate to patients.
Caring for Mr. Scott allowed me to discover that technology within the
medical field must be supplemented with proper personal attention.
Medicine goes beyond chemicals and computers, but into a person's
soul.
With his penetrating blue eyes of a Siberian husky, the temper of a cobra
and the mildness of a mockingbird, Mr. Scott was unforgettable. On my
last day on the medical/surgical floor, I crept into his room. As he
slept, I placed a thick book about the Spanish Armada that I had
gotten especially for him by his bedside table and filled a cup of
sugar-free apple sauce, leaving the shades closed and his amputated
leg covered.