Name: Kyle Louis Henderson
From: Tulsa, OK
Grade: 12th
School: Oral Roberts University
Votes: 0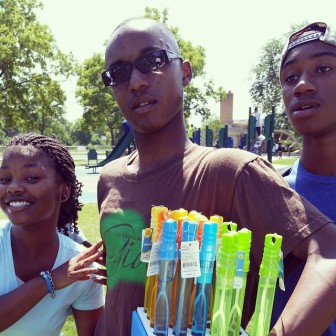 THE MILWAUKEE GIVE
 In 2007, I didn't care much about poverty in our city. In fact, I didn't
care about poverty anywhere.  At 10 years old, all I cared or
even thought about were the things that brought me pleasure: plastic
dinosaurs, classical music, and my friends.  But our city was
changing and my parents were seeing and feeling it. The dinner table
was consumed with conversations on how we as a family could make a
difference.  When over, my sister and I became the first
volunteers of a semi-annual hunger relief effort, known as The
Milwaukee Give.  Although I was involved by default, The
Milwaukee Give has impacted my life in ways nothing else has. The
Milwaukee Give exposed me to the ugly world of poverty and the impact
on the lives of others.
In February of 2015, Milwaukee, Wisconsin was listed as the 2nd most
impoverished big city in the nation.  The mission of The
Milwaukee Give is to provide food and clothing to those in need.
As years have progressed and Milwaukee has climbed the ladder of
poverty, the number of people we serve has also expanded. Throughout
the year we work diligently raising money, collecting clothing, and
purchasing food for those who will attend.  My primary
responsibilities are spending the upcoming months and countless hours
sorting and lifting boxes, and organizing activities for the
children.
Since 2007, I've watched the lines grow longer and the needs become
greater.  The greatest challenge was ensuring there was enough
for the massive lines. At times we have been forced to open
previously packaged boxes, downsizing to make more. But there
was also the children, I always noticed the children.  Before
they were just another person standing in line but for some reason I
was starting to truly consider them paying attention to their faces.

I wanted to find a away to reach the kids, I wanted to make them
happy.  One of the satisfactions of life is making someone else
smile, this is one reason I've chosen acting as a major in college.
Because of my efforts, I was promoted to the Children's Activity Coordinator
for The Milwaukee Give.  And The Give now provides a day of fun,
activities and personal bonding with all children. I know I'm
making a difference when for one day a child whom I never knew
existed, suddenly becomes the most important person in the world.
Thinking forward, I know this experience has shaped my desire to
think about others. 
Looking forward means that the decisions and activities I engage in today
need to be those that positively shape my life tomorrow.  Being
a volunteer is crucial in becoming a well-rounded person.  It
has helped me understand that no matter what I'm called to do I
must remember that people are a priceless commodity. No matter the
color, shape or size.  I've also learned that I have the power
to make a difference, and I must continue to use that power to serve
others.