Name: Taylor Louise Custis
From: Clinton, Maryland
Grade: 11th
School: Grace Brethren Christian School
Votes: 8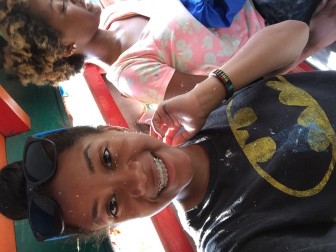 Ministering
Hope
The area in which I have chosen to volunteer is often categorized as
missions. It is considered very broad because missions work is truly
whatever work needs to be done at a specific place or time. During
missions dedicated trips I have pulled weeds, watched over children,
fed the homeless, donated athletic equipment, painted churches,
picked up trash, and cleaned homeless shelters. I enjoy missions
because of the broadness of the category and flexibility required.
Although these trips never go as planned, they result much better
than any team member could have predicted.
I do not have a daily volunteer schedule but I often dedicate entire
weeks to volunteerism in my community or elsewhere. Any other
volunteering I do is casual and lasts two to three hours. I currently
have over two hundred recorded high school service hours.
The biggest challenge I face when volunteering is definitely group
coordination and like-mindedness. It's a constant mission of mine
to be in union with my team. I know anything otherwise will result in
incorrect intentions. If the motive is not love then the work done is
useless.
Human connection has definitely given me the most satisfaction. Knowing
that I've touched someone's life is the greatest reward. Seeing
people smile and feel appreciated gives me so much joy. It's also
very rewarding to see the fruit of my labor, for example, admiring
the walls of an orphanage spent all day painting.
After and during my education I plan to continue my volunteer work, locally
and internationally. A major career goal of mine is pursuing
philanthropy as a full time occupation. I desire to invest in other
nonprofits and to start my own, providing support wherever is needed
and helping communities to grow independent. I know that my current
community service is providing the foundation for this lifestyle. The
volunteering that I do today is forward looking, in preparation for
my future. It is not meaningless or ephemeral. I am planting seeds
that will blossom. I am building character.
I seek to shed light on the hope that already exists in the world. We
often hear the stories of destitution and sorrow while the stories of
determination and joy are overlooked. By spreading these positive
stories, we spread hope. Hope gives others courage and strength,
qualities that the world is in desperate need of. If I could spread
more hope, I could help change the world.
I know that one moment can change someone's entire life. One
conversation, one meal, and one prayer can each last forever in the
eyes of a stranger. I have no doubt that the encounters I've had
will create lasting impacts.
I've learned not to volunteer for hours or recognition but to assist for
the purpose of helping and making the world a better place.
Thankfully, I've had the privilege of working with several
individuals who've learned the same. If the entire world could have
this mindset, our home would shift overnight.