Name: Ben Greer
From: Waxhaw, North Carolina
Grade: Junior
School: Marvin Ridge High School
Votes: 0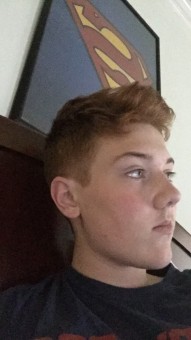 I live less than a mile from a horse farm in Waxhaw, NC. The farm is
called Misty Meadows that measures up to be eighty eight acres, but
these basic characteristics make it nondescript in comparison to the
rural setting of North Carolina. What makes this place special is its
owners, the Swimmer family. They have opened their farm up to the
handicapped community as a therapeutic riding facility for the past
21 years. I started volunteering there in September of 2013. Every
Saturday from Labor Day to the end of May I spend 4 hours
volunteering
I start my day preparing the tack (horse riding equipment) for the kids
to ride on throughout the day. I work together with the tack
coordinator to assemble the tack for the three hour long classes (10,
11, and 12). Once the tack is organized, I get the horses out of the
fields, groom and tack them for their classes. During the classes I
don't participate in I'm busy performing various tasks such as
sweeping and cleaning stalls, managing tack flow as the classes come
into the barn and even doing side projects for the Swimmers like
cleaning the trails in the woods, painting fences and cutting the
fields. I enjoy it all because I work with other high schoolers and
adults and have form relationships with many that I cherish. But the
greatest time spent at Misty Meadows is with Maya. She rides Pepper
in the 11:00 class.
Maya is nine and suffers major issues with her cognitive ability and motor
control. I am her side walker playing an important role by keeping
her safe up on the horse or taking her off in the event of possible
danger. She has given me the most satisfaction and challenge at Misty
Meadows. Maya is smart and often sees the positives despite her
situation. We have developed a close bond where her victories are my
victories!
Maya could hardly sit up on the horse when I first started as her side
walker. But through her hard work and dedication she has made step by
step improvements. I vividly remember a milestone Maya achieved one
day. I came home excited to share this news telling my mom, "She
stayed on the whole class!" Two months later saying "She can do a
two point now mom!!" The biggest break through came this past March
where she would independently steer the horse without any guidance!
This was especially impressive because she has to block out any
distractions while looking where she is going, and also being able to
process the visual information into her hand movements to direct the
horse.
I have learned many new skills while at Misty Meadows. I have also
learned a lot about myself. I am compassionate, patient and
understanding. I am grateful to be healthy and happy to utilize
these skills I have to help make more milestones and memories for
other riders.