Name: Emily Peirce
From: Elk Point, South Dakota
Grade: 11
School: Elk Point-Jefferson High School
Votes: 0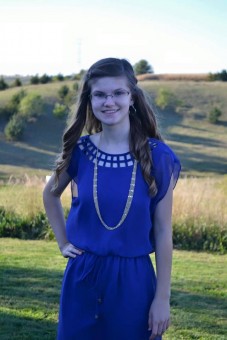 I have always been the "nerd" who enjoys the things most high
school students don't. I enjoy doing volunteer work and have done
a variety of volunteer work ranging from "Soles 4 Souls" to
tutoring to planting flowers in my community. I have been tutoring
without pay since my freshman year because I love to help others who
don't have the same opportunities as others. Some kids can't get
the same kind of help at home for various reasons. It breaks my
heart to know that those kids lose faith in themselves because of
these situations or that they don't get the same opportunities.
When I tutor in the school year, I usually take an hour and a half to
two hours each day for three or four days in a week. My main job was
to help kids ranging from elementary to high school get assignments
completed with a good amount of help. Other times, I would help kids
study for tests. This was always their favorite thing because I
tried to make studying something that they will enjoy. Everyone
deserves to enjoy learning.
The hardest thing about the work was giving the kids enough help to
make them feel confident in themselves but not too much help that
they feel like they can't do anything on their own. They are
actually very smart kids. They just need a little nudging to keep
them going, and I wanted them to see that. My favorite thing was
when I was successful in helping them see their potential. I still
remember the first time that a fifth grader came to me with giddy
excitement over a grade she got on a spelling test. It warmed my
heart to see her gain confidence in herself.
Through tutoring, I have learned that there is so much more to
tutoring than helping students get good grades. It is a way to make
them feel like they are good at something or to help give them more
opportunities. So many things depend on grades, and helping them get
the grades they need is a huge part of giving the students more
opportunities.
To me, forward looking is planning or preparing for the future. The
experience that I have gotten through tutoring classifies as forward
looking. I plan on becoming a teacher when I am older, so tutoring
has helped me gain experience in that field. I hope that when I
teach, I can help even more kids gain confidence than I did through
tutoring. So many kids lack this because they don't do very well
in school. I would love to change that. This is a problem that will
last for years if nothing is done. If I were to come back in many
years, I do believe that this would have made a difference. It could
possibly inspire the kids I tutored to help others feel confident and
get the same opportunities. I believe in leaving no child behind.