Name: Ashlyn LaBrenz
From: Frankenmuth, Michigan
Grade: 11
School: Frankenmuth High School
Votes: 251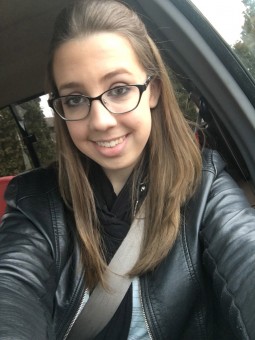 I was once asked by my ill grandmother "Ashlyn, are you selfish?";
for years I pondered this question, unable to reach a conclusion,
until recently. On the surface, this lovely woman was only asking if
I was self-centered; however, I sensed a deeper meaning. Throughout
my life I have been taught to express kindness in every situation and
to give without expecting anything in return, this is why my life
revolves so greatly around service and community leadership today.
My name is Ashlyn LaBrenz, I am the recipient of two presidential
service awards and I am a Hugh O'Brian Youth Leadership alumna; I'm
sixteen years old and have been involved in community service for
roughly six years. I typically complete 60-100 hours of service
annually with no specific area, because I believe that any type of
service will be beneficial in the long run. I am constantly working
on new ways to get students involved in community and world affairs;
when I was only thirteen years old I organized a community service
project in which we made bracelets for orphans in Guatemala. Starting
at the age of ten, I wrote and performed skits at worship services in
our local elderly home; I still can remember huge smiles on the faces
of the tenants who had not seen their children or grandchildren in
months. At thirteen and fourteen I volunteered at the St. Lorenz
Vacation Bible School. As I grew up I started taking on more
meaningful roles, I volunteered for 65 hours in the kitchen at Camp
Lu Lay Lea, I made and served food at soup kitchens, I helped collect
money for a local youth exchange, and I ran booths and obstacles at
community events.
It was not until last year, when I had attended the Hugh O'Brian Youth
Leadership Seminar, that I fully realized my potential as a youth
leader. Since the seminar I have accumulated one hundred and
sixty-five service hours, the service that I have done in the past
year and a half has not only shed light to those around me but it has
also improved my self-esteem greatly. As I grow older, I will look
back at my service and know I made a difference because I cared and
that is enough to change lives. My latest project has been helping at
a cat shelter which has taught me hard-work and appreciation for my
situation because there is a lot of negligence in the world.
Throughout my service I have had to overcome many adversities the most prominent
being a lack of respect. It is hard to respect someone as young as I
am doing work in the community. Many times my aspirations, my vision
for a better society, have not been taken seriously. Through it all,
I have learned to keep my head high and be of service because I could
not imagine returning to that day seven years ago and telling my poor
grandmother "yes".