Name: Veronica Sarabia
From: Sacramento, California
Grade: Freshman in College
School: California State University, Sacramento
Votes: 99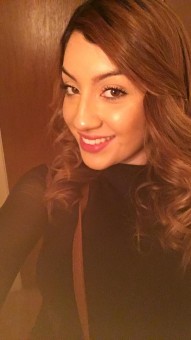 South Sac Coalition was a community group in which the members worked to
provide support and resources to the youth of South Sacramento, California.
Others and I gathered together for two hours a week to plan events
that would help those less fortunate and the homeless of our
community. Our biggest accomplishments were the food and blanket
drives, in which we collected or donated blankets and canned foods to
give away. We spent Saturday nights walking around the poorer
neighborhoods of Sacramento giving these bags away. Although this
program ended due to funding, I really enjoyed this organization
because I feel like the youth in my community is struggling
financially.
Unlike the Coalition, Reading Partners is a nationwide program that tutors
children in reading for various reasons. For example, some students
read at lower levels than they should. I tutored children at Peter
Burnett Elementary School in Southern Sacramento for about two hours
a week, for 5 months. Every time I would go volunteer, I would pick
up Melissa from her class to take her to the school's library.
Because Melissa had problems pronouncing words, I would ask her to
read an entire children's book out loud, and I would only help with
unknown words. In the end, I really enjoyed this program because I
felt like I truly helped Melissa read better which will not only
boost her self-esteem, but also stay with her for all of her life.
She too might also want to help someone who is in need of help
because she received that help when she needed it.  
Although I'm glad I participated in volunteerism throughout high school, it
was not easy. For example, during the food and blanket drives some of
the people we tried reaching out to were rude to us because the bags
did not have what they wanted, as they told us. In reading partners,
Melissa sometimes did not want to attend because of the problems she
had with her divorced parents at home. Furthermore, because I'm an
extremely shy individual, it was difficult for me to open up to
Melissa and the members of the coalition. However, I gradually began
to open up and share my ideas because I knew that it was going to
benefit those in need.

In the end, volunteerism can stimulate only positive changes in the
world. As I previously stated, those who are truly in need don't
usually ask for help because they believe that the world is against
them. However, if the youth and adults show these less fortunate
individuals that we do care about them, we may prevent them from
following the wrong path in life. Instead of following the paths of
other individuals from their community, they might change their goals
to obtaining a Bachelor's, Master's, and/or Doctoral degree.
These individuals might also want to continue this pathway of
volunteerism. Because of this, I will continue serving my community
for as long as I can.