Name: Tara Cecil
From: La Plata, Maryland
Grade: 11
School: La Plata High School
Votes: 0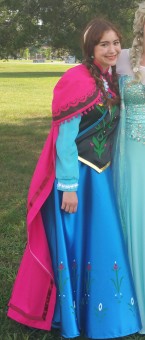 The two things that you have to give in life are time and money, and, in
volunteering, sometimes you can find that you give both. Often I have
volunteered in various activities, such as a few hours at a veteran's
home or a few hours at an elementary school event, but I had to find
an area that I truly wished to volunteer in until recently. Recently
I have learned that I have been called to take on the persona of
Princess Anna from Frozen or Belle from Beauty in the Beast in order
to brighten the days of children with special needs and children
inflicted by cancer. Although I have only recently started
volunteering as this for a few weeks, I have come to love it and know
that it will become a larger part of my life.
Princesses have lots of responsibilities, just as I do when I dress as one. I must
become the character whom I am dressed as, knowing all the songs from
Frozen and every aspect of my characters life. Why? So that I may
become my character and be the princess whom the children believe me
to be – as a convincing princess, they believe that it is truly
Princess Anna from Arendelle, and they faces brighten, and they rush
towards me for a hug. The most difficult part of this as a volunteer
is to know that each of these children are inflicted by some sort of
ailment, which is very difficult to rid of, be it Down's syndrome
or Leukemia. However, stifling the pain in knowing this, is also
knowing that when they look at me, they see an individual who,
despite being a Princess with plenty of other responsibilities and
duties, has taken interest in them and cares for them.
From my volunteer position, I have learned what it means to serve people in
order to be served. By serving these children, I have been served
compassion and delight in knowing that I made at least one day more
bearable and exciting. Being able to do this so early on in my life
excites me. I plan on going to college to become a biomedical
engineer, and then to continue to be either a cardiologist or
pediatric oncologist. All three of these jobs involve serving the
public or patients in order to make their days better and worth
looking forward to.
Looking forward, or forward looking, to me means always pushing
forward and finding a reason for tomorrow. I see my activities as
forward looking as they help provide hope to children and brighten
their parents' days. I think that I could change how others view
princesses- rather than being an image, which no girl can be, they
can be an image for hope and better days. Due to providing hope, I
believe that my activities have made a difference in the lives of the
kids I've seen, and each life is of spectacular value.