Name: Martha Cameron Maves
From: Tifton, GA
Grade: Senior in High School
School: Home schooled
Votes: 293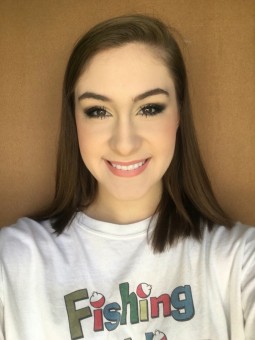 My
Paradise
The smells
have never bothered me, and neither have the screams. Dirty diapers?
No big deal.
Someone needs
help eating? I have that down, too. Nothing about the nursing home
makes me want
to turn around
and run like it does for some. In fact, I find it rather inviting.
Volunteering at
the nursing home
gives me purpose. I would not want to work anywhere else. This
volunteer
experience is
what has inspired me to want to work with the elderly as a
recreational therapist. I have
chosen to pursue
this career at Valdosta State University because it has many types of
special needs
education degrees
along with different volunteer opportunities.
The nursing
home satisfies me in ways that no other job could. I get to offer
help by making them
smile, teaching
them new things, being a friend and companion, and giving them the
most normal life
that they can
have. When I walk through those doors, I immediately am greeted by
several people.
They draw me in
and practically beg for attention. The residents need love so badly,
and I am happy to
give it. They
make me feel appreciated, and that is a feeling that I have been
looking for my whole life.
Now that I have
found it, I am never letting it go.
The nursing
home has taught me much about myself and others. One of my favorite
couples, Charles
and Wilma, have
by far, taught me the most. They have been married for sixty-two
years. During
the past four
years, Wilma has developed dementia. She does not remember anyone
except for her
husband and her
daughter, Charlene. Nevertheless, her husband, who does not live at
the nursing
home, comes to
see her every morning and sits with her until he leaves at night. He
has not missed a
day in the three
years that Wilma has been a resident. He is so faithful to his wife.
Commitment like
this is not
witnessed, or even respected, in our society today, and I would not
have seen it had I not
been blessed to
work at the nursing home.
Another
lesson that these residents have taught me is to never judge a book
by its cover. My first day
at the nursing
home I met an African-American lady named Mrs. Gertrude. She has no
teeth, a pig-
like nose, and
discolored skin. But, she is absolutely the most precious, sharp,
fun, wise person I know.
She once told me
that I have a choice- to be happy or to be miserable. That day, I
decided to choose to
be happy, no
matter how sad I might want to be. She taught me to make the best of
any situation no
matter how hard
the circumstances may get.
I look
forward to learning many more life lessons from the elderly as I
pursue recreational therapy.

What started out as a volunteer experience has become my love and one
day will be my career.