Name: Aissatou Bah
From: STATEN ISLAND, New York
Grade: Aissatou.Bah73@myhunter.cuny.edu
School: Aissatou.Bah73@myhunter.cuny.edu
Votes: 0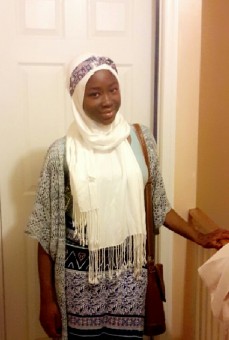 The child looked like she was 7 years old as she saw the lights go dark in the room
with lights on stage. I saw her backstage. She seemed a bit scared
either because of the darkness or the maniacal laughing she heard all
around that came from my mouth. I practiced my voice. It had to be
nasally and loud. When I started volunteering at the Zoo for
Spooktacular I hadn't come to realize the amount of children I would
be performing for every night. Once I heard the music I knew it was
time. Time for me to put my acting and scary face on. There weren't
many perks in being the Wicked Witch. The green skin always got the
kids , even before I spoke in my nasally voice. It was Saturday Night
already and It felt like just yesterday my teacher was asking who
would volunteer in the downstairs show for Spooktacular. Spooktacular
is a type of entertainment given to kids in October with a halloween
theme. This was the beginning of my junior year, we decided to do a
villainous theme, with a twist from Frozen. It was cute. It include
Maleficent,
We were all to be feared because of our past stories from fairy tales. The kids were
very convinced by our costumes and makeup. I started doing
Spooktacular in my Freshman year. The volunteering was in partner
with my school's theater program and the Staten Island Zoo. Everyday
during the 3 weeks leading up to the event, we rehearsed 33 hrs a
week. As a volunteer during Spooktacular, you had to take some part
in the entertainment which is given to the kids. There are games,
music, dancings and shows. I was in the downstairs show playing the
wicked witch. In this moment as I am getting ready to go out, this is
my biggest obstacle. It's hard to make a full room of adults and
children believe you are someone that you are not. It's not only the
make up, it's the way you showcase your character to the audience. It
was a good thing I had watched the Wizard of Oz the night
before. I thought if I was going to act as her, I had to be her. I
finally went outside after the music had died down , laughing loud
and obnoxious while looking into the audience with the eyelids opened
wide. I saw some children hide their faces which i saw the adults
found humorous. Some children thought I was funny and laughed at me
when ever I said or did anything. It was satisfying, as I watched
through the crowd the young faces that looked me only as the wicked
witch not some girl volunteering at a zoo for community service. At
the end of the show, we dance with the little kids by going into the
audience and picking them out to come on stage and dance. I went
straight to the 7 year old who let me take her hand and bring her up.
Sometimes the children are too afraid or find it weird to dance with
a bunch of characters on stage. However the 7 year old girl danced
with me as her mother took pictures of us dancing together at that
moment alI I could think was that this wasn't just volunteering, this
was my way of life. Through that volunteering experience I expressed
my love for theater. I found it profound that were able to make
people believe who you were just using expressions and small habits
that made me very distinguishable. At This moment I attend CUNY
Hunter College where I study journalism and chemistry but am apart of
the Muse scholar program, where the concentration is focused on the
arts as a whole. This experience made my feelings towards theater
very real.Through this volunteer experience I was able to acquire a
larger understanding in what it means to serve others as a way of
serving yourself. When I looked at the young childrens faces, I saw
something more than wonder, I saw satisfaction. The most important
feeling someone can have.
How does your creativity help change in the world for the better? How has
creativity helped de ne who you are?
When I write a poem, I always make my little sister Aicha read it because I tell her I
want her opinion about the poem. Sometimes she is in shock by the
definition of words she is confused about or the way she seems to
look deeper into every syllable, every word. Sometimes I tell her to
give me HER interpretation of the poem. I know its my poem and I know
that she will probably not know exactly what it is I am writing but