Name: David Emmanuel Locon
From: Daly City, CA
Grade: Sophomore
School: University of California, Berkeley
Votes: 149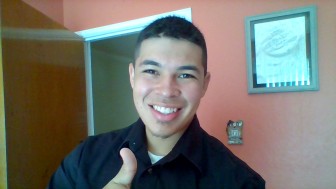 In my opinion, some people will only volunteer so it can look good on
their résumés. What about the learning experience and the
satisfaction to those whom you assisted? When I volunteer, my focus
is to passionately help those who need it and, simultaneously, gain
knowledge from those experiences. I will explain how one of my
volunteer experiences has enlighten those I served and how it has
helped me grow mentally.
At Holy Angels Church in Colma, California, I volunteer as a Eucharistic
minister, a lector, and a member of the Latin group. As a Eucharistic
minister I assist the priest with the sacrament of Holy Communion
during Sunday mass. As a lector, I proclaim the liturgy of the Word
during Sunday mass. And as a member of the Latin group I help set up
and participate in events and group activities. I generally volunteer
from one to six hours per week depending on what is planned at the
church but I still devote my time at least one hour every Sunday for
Church service. My toughest challenge as a volunteer is really
devoting my time out of my schedule to participate with the Church.
Meaning, I could spend my extra time focusing on school or work but I
know better that my time at Holy Angels means helping out the
community. From my time at Holy Angels Church, I learned many
inspirational teachings but one teaching that really touched my heart
was when Jesus washed the feet of His disciples. This teaching tells
us about how Jesus, King of kings and Lord of lords, decided to do
the lowly task of cleaning the feet of His followers. He teaches us
that despite the kind of person you are, we have to serve those who
are less fortunate. For example, the members and I of the Holy Angels
Latin group cook food once a month and give it to the needy
throughout San Francisco, California. We drive through San Francisco
and personally hand food and water to those living out in the
streets. After giving them food and water, we say to them, "God
bless you," with a smile on our faces. In return, they smile back
and say, "God bless you too." Realizing how joyful they are, we
also made ourselves very joyful.

What I learned from the volunteer experience I gave above is that even though I come from a different lifestyle from those who are poor, I need to serve them by
assisting them any way possible. What I want back is not money, but
joy. Therefore, my biggest satisfaction as a volunteer is seeing the
people I serve become happy. I hope in the future I will be able to
give back to the community by designing homes for those who are not
able to afford them since I want to be an architect. That is one of
my future goals, but for now I continue serving the poor any way I
can.