Name: Brooke Driver
From: Apache Junction, AZ
Grade: College Freshman
School: Central Arizona College
Votes: 108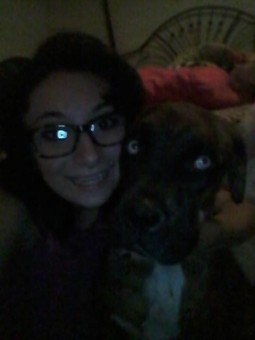 Most of my volunteer time has been dedicated to animals and animal
welfare; because I have learned to cope with rough times in life
through caring and interacting with animals. I find comfort and peace
with animals. This past school year (2015-2016) was my senior year
and it led me to many volunteer opportunities. I was able to
volunteer a little over 15 hours of my time working with animals at
Rough Riders, a horse stable, where I fed, groomed and cleaned up
after these wonderful creatures. I also attended a Health Occupation
Students of America (HOSA) convention which increased my knowledge in
animal health care. It encouraged me to continue working with animals
and I completed a 157 hour internship at Hayden Road Animal Hospital.
During this 3 month internship I learned many skills and gained hands
on experience. Some examples include but are not limited to;
Administering Vaccinations, Learning Restraints, Knowledge of
Medication, Knowledge of Equipment, and assisted and monitored during
surgeries. I was also a 12K's of Christmas Volunteer taking care of
charity runners dogs while also cheering them on, I gave them 11
hours of my time to help support and earn money for this
organization. I volunteered 6 hours for the East Valley Institute of
Technology (EVIT) Expo to welcome new EVIT students and recruit and
demonstrate on animals what they will do and learn in class. As a
volunteer I had many different responsibilities as noted above and
learned many different useful skills, not only working with animals
but also working with other people. I think the largest
responsibilities I value as a volunteer lie within my character such
as being: trustworthy, reliable, punctual, respectful, accountable,
and committed. I found one of the largest obstacles to volunteer work
is time management. Creating a schedule that accommodated time for
school, family, work, chores and my commitment to the volunteer work
that I wanted to participate in was difficult. Learning to manage my
time so I could learn new technology and new responsibilities while
working with others helped me grow and I feel it will prepare me for
college and it's time constraints. When I volunteer and I know it
helps animals I feel a great sense of satisfaction. I am so happy
that I am able to give back to animals because animals have helped me
get through so many tough times. I enjoy working with other people
who value the lives and welfare of animals as much as I do. I think
if I can continue working with animals I will be living a dream. I
was honored to receive a certificate of volunteer service and I am a
prominent member of the National Technical Honors Society. This is a
confirmation of my hard work. My school and life experience thus far
has allowed me to obtain a variety of skills. However, volunteer
work has reinforced and taught me a variety of skills. Now I know
many different medical procedures, I possess a high understanding of
anatomy both in humans and animals. I am a skilled animal groomer, a
trusted child care provider and respected nanny. I understand how to
use current technology, work with and learn from people with
different teaching and managing styles. I have also learned how to
manage my time, I learned to stay committed and responsible. I am
proud to say I am punctual and know the value in that. I plan on
becoming a veterinarian, my time spent volunteering only confirmed my
career goals. I know that helping these animals made a difference in
their lives and ultimately helped the lives of the pet owners. Pets
bring people comfort, company, peace and love. By helping animals I
feel like I have made a little part of the world a better place, like
helping a little drop of love grow. I dream of doing this on a daily
bases and making a difference in my community. For me, "forward
looking" means putting others needs before your own. Bettering the
lives around you because you have the capability to, "Be the
change in the world you wish to see". If I could look through a
magic window at my life ten years from now, I imagine I would see a
successful person living her lifelong dream. I would see a
veterinarian, running a clinic, within an animal sanctuary. Her
family would be part of her work, sharing her passion and love for
animals. She would be respected in the community because of her
giving nature, her success would not be motivated by money, but
humanity. For these reasons I am currently enrolled in college taking
15 units to obtain an associate of science degree, which will allow
me to work towards my bachelors degree and ultimately my veterinary
doctorate. I know there is a lot of hard work ahead of me but this is
a lifelong goal and dream. I feel like this is the path I was born to
be on and won't let anything get in the way of it.